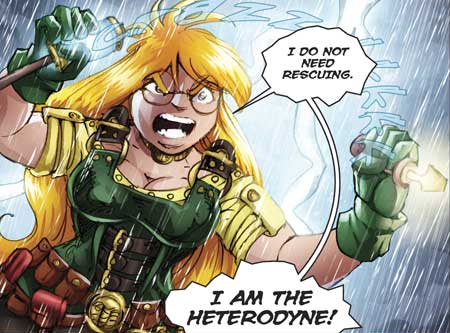 Agatha
Back in April, I flagged up the Kickstarter for the latest Girl Genius collection from Phil and Kaya Foglio, and this has duly arrived today. Entitled The Beast of the Rails, this is the fourteenth volume of the series, and the first of Act 2. I've been enjoying starting to read this in collected form, as opposed to last year when I read it three days a week on the Girl Genius web-site, which can be found here.
Until that moment when I suddenly flashed what has to be termed The Cold Equation, after a very famous pre-World War 2 SF short-story.
Act 2, or, The Second Voyage of Agatha Heterodyne, is intended to be the middle act of the entire Girl Genius story. Though the Foglios have not committed to anything definitive, the impression has always been given that each of the three Acts will be of roughly similar lengths. Utilising the skills in basic arithmetic that once scored me a Grade 2 at O-level, round about the same time The Who were in the Top 10 with 'Won't Get Fooled Again' (a classic, a true legend), I calculate that three Acts of 13 volumes adds up to 39 all told. Meaning that there are further 25 to follow.
The Foglios collect a volume every year. That makes it pretty easy to work out that the Girl Genius story will not be complete, i.e., won't reach the ending, for another 25 years.
Phil Foglio, it transpires, is almost exactly six months younger than myself. Fortunately, there is a tradition among American comic book artists of living well into your late eighties and even your nineties, which is all very well since Mr Foglio will need to do so if he ever hopes to complete Girl Genius. But what about me?
As things stand, in order to read the end of this story, which I have already been following since its debut in 2001, I am going to have to live until the age of at least eighty-four. Now I'm not going to start going into details but I have strong reasons to suspect that I probably won't get there. It's not like I'm looking at any preset limits, and my paternal grandfather did live to the age of 88, but take it from me, the odds are tilted in the wrong direction.
I am therefore reading and collecting a story that, in all probability, I won't get to finish. I've only just realised that tonight. Heh heh.
So, if the Professororae Foglio happen to be reading this, I hate to put pressure on you, but if there's any chance you could speed up a little, sort of, double, maybe? I think I can hang on for that. If you don't mind. I am really enjoying this…