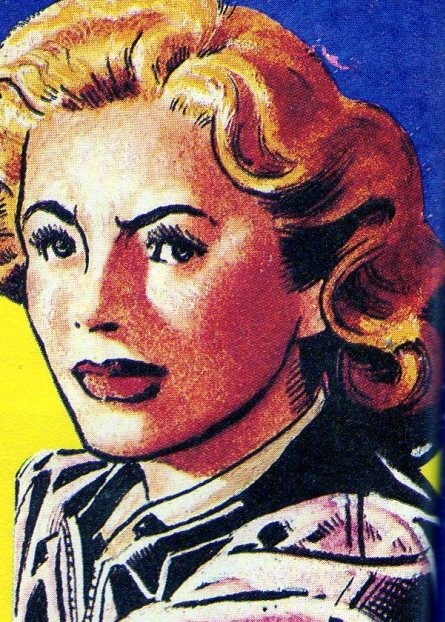 Who will they get to play her?
I've just learned of a new, forthcoming proposal to adapt the classic Dan Dare stories from the Frank Hampson era in a series of six 'audio adventures', i.e., radio versions, details here.
As you can see, the planned adaptations consist of the first five of Dan's original adventures in the Eagle, plus 'Reign of the Robots' but without first traveling to Cryptos/Phantos.
The series looks as if it's stripping the cast down to a core quartet of Dan, Digby, Professor Peabody and the Anastasia, which, if it's going to be the craft that takes our intrepid heroes to Venus, right at the start, is not going to be the personal craft we all know and love.
The blurbs also make it plain that, whereas the audio series follows the Eagle chronology, excepting 'Reign of the Robots', there are going to be substantial changes to plots and settings. The piece speaks of 'a great team that has respect but not reverence for the original comics' which, whilst objectively probably the best thing you could have, nevertheless fills me with dread. As you may have noticed, I like my Dan Dare to be Dan Dare, so any variation is automatically troubling.
Besides, whilst the only reference to romance is to the 'romance of space', the fact that Dan and Jocelyn (will she still even be Jocelyn, since that's such an old-fashioned name now: five'll get you ten that the 'Mabel' gets dropped extremely silently) are trailing around together is like a red flag.
There doesn't, in these brief descriptions, appear to be room for the likes of Sir Hubert, Hank or Pierre, though Sondar is name-checked and Flamer Spry's role exists, but what we'll get will be quite different to what we know.
B7 Media have been around since 2007 and have an impressive record. They were behind the most recent Sky adaptation of Terry Pratchett, in 2010, and are currently rebooting Blake's 7 for TV, having already done so for Radio. They've also adapted The Martian Chronicles in that form, both series of which having been broadcast on BBC Radio 4 Extra, so Dan Dare is likely to come out on that medium.
I will be listening (and commenting).