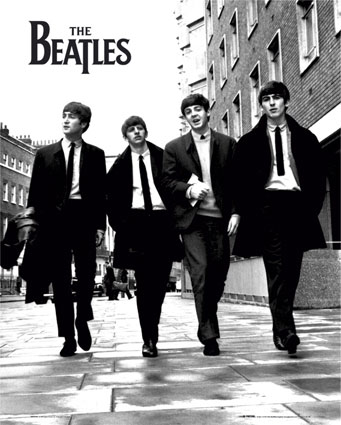 For me, there is very little of Paul McCartney's post-Beatle music that's worth house-space: a year either side of Band on the Run (which I once owned) and that's about it. Oh, and thanks almost entirely to hearing it for the first time with the utterly charming Rupert the Bear video, I do have a soft spot for The Frog Chorus. This despite never having gotten into Rupert, even as a very small boy.
And I freely confess that when it comes to the Beatles, I am far more taken with John Lennon's contributions, though I am nothing like musical enough to say why. Perhaps it's because, underneath it all, McCartney was the Great Sentimentalist, whose emotional music was rarely to be entirely trusted because it came far too easily, whilst Lennon was the Hard Man, whose romanticism had to be pulled out of deeper places, and which became more personal as a consequence.
Take two songs, both from A Hard Day's Night, the film and album, both gentle, slow-tempo acoustic ballads, both love songs. Though both are credited to Lennon/McCartney, it's open knowledge that, after the first couple of albums, most songs were primarily composed individually, with the primary writer the lead singer.
But that's not the only reason why it's so easy to identify track 5's 'And I Love Her' as penned by McCartney, and track 3's 'If I Fell' by Lennon.
I'm not going to discuss the song's various merits musically, but let's compare the lyrics, the substance of the songs. 'And I Love Her' has no substance, it's about as deep as the first layer of dust on a concrete floor. McCartney loves her. It you saw her, you'd love her. He loves her. At night, the stars are bright and the sky is dark, but he'll always love her. He loves her.
Many years ago, I read noted Musicologist Wilfred Mellers' book, Twilight of the Gods, which subjected the Beatles' songs to analysis for how they achieved their effects, in a similar manner to how classical works are approached. Mellers defined the early Beatles love songs, like 'Love Me Do' as 'eden-songs', in which the emotion is simple, indeed naive. 'And I Love Her' qualifies in this bracket, relatively late though it is.
In contrast, 'If I Fell' has deeper concerns. Lennon has met a girl, someone special, someone with whom he could easily fall in love. He's clearly tempted. But love is more than fluffy feelings. He already has a girl, who loves him. He stands between the two women, knowing the decision to be very important. If he chooses the new woman, his current girlfriend will be hurt, badly. It is not just important but vital that he chooses correctly. If the new woman is all he thinks she might be, if what is offered is true love, commitment, the real thing, he will go to her.
But if it's just a passing thing, a fling, a bit of fun, something ephemeral, then he will cleave to his existing girlfriend. He will not hurt her for a bit on the side.
In one sense, this is a song about a man deciding whether to break his girlfriend's heart, but on another, Lennon is singing about repsonsibility, between one another. He's been in love before, he sings, and found that it is more than just holding hands, the nod to the early Beatles classic deliberate and thoughtful.
In Lennon's song, love is about commitment, between people, and it is not to be thrown away unnecessarily.
All this comes about because of the recent news of Paul McCartney initiating action in America to recover the publishing rights of 'his' Beatles' songs, beginning with a selected 32. Under American copyright law, which differs from the British 'life plus seventy five years', the creator of a work of art can recover rights to it after the expiration of two periods of twenty-eight years.
It's been the cause of much more sniping and snidery about McCartney, a large proportion of which being about him being richer than Croesus and therefore hardly in need of the additional money the rights to the songs would bring in, but which is substantially also about the fact that John Lennon was killed in 1980 and McCartney is still alive thirty six years later.
Lennon's death, and the natural process towards secular canonisation that started the moment we all heard that shocking news, established a gulf between the two principal Beatles' songwriters. It was almost mandatory to take a side – were you a Lennonist or a McCartneyite?
I've already identified myself as being, in theory, in Lennon's camp. His post-Beatles music was exceedingly mixed, but his highs were far higher than those of McCartney's and McCartney's lows are incomparably awful.
But what's the point? I might prefer Lennon's songs, but that doesn't mean that I disdain McCartney's. The guy who wrote 'Yesterday' and who carried the tune around for two years because he didn't believe it could be original. The Beatles could not have been what we relish them for, could not have contributed so much to the development of music if either of the pair were not there. They may not have written together often after the first couple of years, but no song was begun without the thought of the other, the need to pass the other's quality controls, their bullshit detector, the paramount desire to outdo.
Whatever I may think of McCartney's music, now or for decades, it does not alter one jot that he is an artist. That status does not depend upon the quality of what he produces (which might not impress me but which has a very expansive following nevertheless), it's simply what it is. McCartney has spoken many times of hearing 'Yesterday' being credited to Lennon/McCartney, and has refused many times to sing Beatles songs on stage because it means having to pay someone else for the privilege of singing his own songs.
Snipe all you want, but from my incredibly lower perspective, I know exactly what he feels. Your work is your own, and there is a personal connection that goes above and beyond monetary considerations.
But at the bottom of it, I find the hatred towards McCartney confusing and dismaying. He was a Beatle, and like the other three, he was an integral part of the group. They were as they were because of him, in exactly the same manner that they were as they were because of John. And George. And Ringo. Whether I prefer John's music to his, the plain fact is that he wrote some incredible songs that will still be being sung in other centuries.
The older I get, the harder it gets to see why such things matter so viscerally to so many people. Is it so beyond conception that one can like someone's music without feeling the compulsion to belittle someone else's? Can you only love Lennon's music if you commit yourself to hating McCartney's?
Or are we damned to believe Robert Wyatt's line from the hypnotic 'Gharbzadegi': "How can I rise if you don't fall?"
I'm also depressed, if not surprised, at the tenor of the attitude to McCartney seeking to reclaim the rights to his own songs. He wrote them. He lost control of them due to appallingly bad business advice. But his desire to take them back arouses scorn and contempt, on the irrelevant ground that he doesn't need the money from them.
That's what it's all about to so many people now: money. It's the only thing in their heads and so they won't accept that a person can be motivated by anything else.
Not even 'Mull of Kyntire' justifies that.