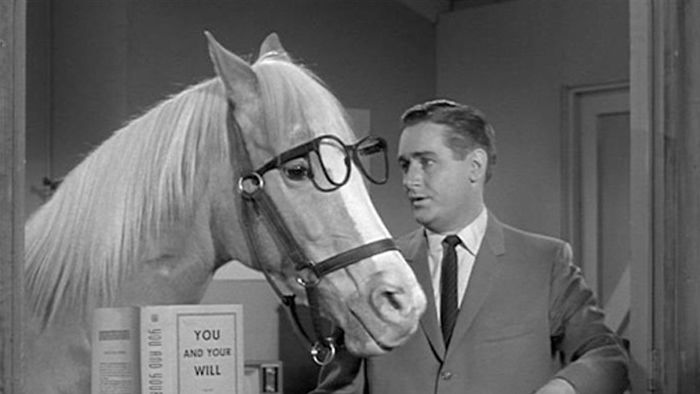 It should have been called The Alan Young Show, but the man refused to put his name to it. If he had, we would probably never have called it by that name, or remembered its proper title. After all, there was an American TV sitcom called The Phil Silvers Show, though the millions of us who roared with laughter at it, and can't resist catching the reruns, even though they're nearly sixty years old, only ever think of it, or call it, 'Bilko', or 'Sergeant Bilko'.
So Alan Young starred in a funny, popular, successful sitcom from 1961 to 1966. It made him a star and by all rights he should have been the star, and be entitled to have his name above the door. But when the show was in preparation, Alan Young had no faith in the (unoriginal) premise and refused to have his name affixed to such an obvious disaster. The producers therefore named the show after Young's co-star, a palamino. Like I said, even if they had ignored Young's reluctance, we would still have called it by the title they chose.
Hello, I'm Mr Ed.
For those too young to remember this era of American sitcoms, in which I grew up, the show officially starred Young as Wilbur Post, a somewhat klutzy young architect, who finds that, along with his new house, he has inherited a horse, left behind by the previous owner. Oh, and the horse can talk. (Ed was voiced byformer Westerns actor , Allen Lane). But he'll only talk to Wilbur (Wiiillbuuurrr!).
It's silly, but it was gloriously silly. Ed was a naturally born mischief-maker, with a high intelligence and a range far beyond the capability of horses (according to accounts, the horse, a palamino named Bamboo Harvester, was extraordinarily intelligent in his own right). It was a time when American sitcoms were in a stupid phase, with bizarre ideas (I promise not to mention My Mother the Car).
Of course, all such things depended on the ability of the human being in the centre, and Young was a delight in the part. Mild, unassuming, hapless, Wilbur was unavoidably overshadowed by Ed, but without his natural believability, the show could not have succeeded.
Alan Young died yesterday, aged 96. He was born in North Shields, Northumberland, to Scottish parents who originally named him Angus. He was raised in Canada and first got into the comedy business of radio. I've looked these details up for this, because in truth I never knew anything about the man except for those years in the early Sixties when Mr Ed popped up around teatime, in ITV Granada, to get a little boy to laugh his head off. I didn't know he was still alive, but at any time I could sing you the Mr Ed theme song.
For that alone, I raise a glass to Alan Young, in grateful memory.