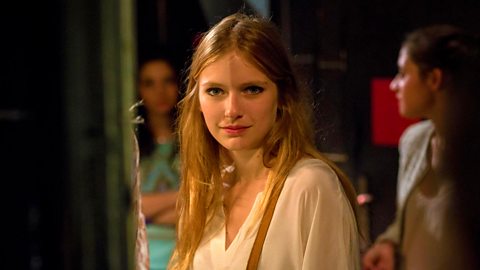 I spent much of the last seven days wondering if I'd been premature in hailing last week's wrapped-in-plastic body as definitely Lea Morel, since in a series entitled Disparue, the halfway mark seemed potentially premature to reveal that the disappeared is actually dead. But no, I hadn't fallen victim to a clever twist: it was the unfortunate Lea, dead from a blow to the head (with a pink clay brick: marvelously specific these autopsies) on the same night she disappeared.
It put a quiet on episode 5 which was largely devoted to the telling of the news, the confirmation of identity in the morgue, its effect on the Morel family, how Flo responds by being all practical, have to get on with things, and Julien by increasing his obsession with knowing who and what, the ever-growing rift between them, and the funeral itself. Investigation itself, autopsy aside, takes a back seat until late on, when the finger starts to point compass-like to Matthias Tellier, Lea's French Teacher and Form Master.
Now I don't want to blow my own trumpet too lavishly, but if you care to have a look back at last week's blog…
It appears that M. Tellier was carrying out a blog exchange with the late Lea, during which he was praising her in terms that the local Education Committee would have looked askance at and he had form in shagging under age pupils, though in Tellier's favour it must be said that Reader, he married her.
But all that ran up against a stonking great interruption in the form of Nicolas, the sacked waiter. First, he interrupts the funeral meal, trying desperately to speak to Julien, then he breaks into the cafe late at night to nick what appeared to be a card.
Then he committed suicide, having run a hosepipe from his car exhaust into the sealed car (a particularly old-fashioned form of suicide that you don't hear much of these days), leaving a detailed confession to the murder of both Lea and prostitute Jenny on his tablet. Case closed.
Far from it, given that that was only the cliffhanger at the end of episode 5. Even though Nicolas knew things that presumably only the killer would know, nobody was buying him as the murderer except Flo, who was engaged in shutting off everything so she didn't have to think about it any more, and Molina's superior, Louvin, who's anxious to call a press conference signing everything off as soon as possible.
But there was more coming through from the autopsies. Nicolas died of a cardiac arrest from overdosing, but there wasn't a trace of carbon dioxide in his lungs: conclusion, dead before somebody else fitted the hose and started the engine running. Molina has Louvin go through with the press conference, lull the murderer into thinking he's not being investigated any more.
And there's more from Lea's results: when she died, the girl was two months pregnant. Who's the Daddy? Well, the DNA evidence rules out boyfriend Romain, lovelorn Nicolas, and M. Tellier, so Molina needs to get DNA samples to test Brother Thomas, Uncle Jean… and Daddy Julien.
There is a new lead on top of that. Lea's autopsy is hand-delivered by the attractive MILF doctor who wants to shag the oblivious Molina and it identifies Lea as having first been buried miles away in Miribel Park before being tossed in the drink. A near-formal grave is found and in it a graven pendant: a heart shaped from two dolphins, with Lea's name on the back.
Who gave it her? No-one seems to know but Romain, who says it was her parents. Julien Morel confirms that it was a birthday present from Lea, her own request, but that it was never given to her. It's still in his desk drawer, unopened. So who gave Lea a copy? After much patient enquiry, a jeweller is located who sold it, to Lea and some man. Do you recognise him from these photos, says Detective Camille (who, incidentally this week, has accompanied her intention to throw out her ex-boyfriend's gear with a decision to wear tight blouses unbuttoned far enough to display cleavage). Why yes, I do, that's him there.
Sometimes I really hate cliffhangers.
With the final two episodes coming up next Saturday night, the explanation won't be long concealed. As for who the murderer is, I confess I haven't the faintest idea, which is one very good point to The Disappearance. It may take a lead from existing programmes, and there was more of that this week, but it certainly hasn't telegraphed the outcome.
For what it's worth, I'm pretty convinced it's not Julien Morel. We've seen too much of him in unguarded moments for it to be plausible, short of classic schizophrenia, to announce him as the killer. It might still be the teacher, but my guess, which has literally resolved itself in my mind as I've written this sentence, is cousin Chris (who I believe I should have been spelling as Cris).
I've had a feeling about young Cris (who took her top off this week which has nothing to do with the story but which was pleasant to behold) for some time, but the limb I'm going out on is that Uncle Jean is the father of Lea's feotus, that Lea told Cris that night after the gig and Cris, who we know is very touchy about the very idea of her widowed Dad going near any woman with his willy, promptly brained her. Besides, she had Romain, and Cris didn't.
That's my theory: I promise to be smug if I've got it right.
So much for the plot. Much of this week's pair of episodes, especially episode cinq, turned away from it to watch the grief spread through, and especially between the Morels. This began with Molina advising Julien, and Julien telling Flo the dreadful news. As now seems to be customary, and if continued is on the road to cliche, the exchanges were done wordlessly, with a touch of slow-motion.
That's very much the trend it appears: let the actors tell the story by their reactions, let the audience fill in the blanks for them in whatever words they personally find appropriate. It's effective, and in the scene between Julien and Flo it was also used to foreshadow how things would flow (no pun intended). But it also betrays a little bit of a lapse in confidence, as if writers no longer know what to say, or can't trust actors to turn their words from platitudes to human.
I'm enjoying The Disappearance but I would like to like it more than I do. The intrusion of Molina and Guerin's personal lives are only intrusions because, at only eight episodes, the series doesn't have time to expand upon them. In a way, that's good, because it keeps the show clear of cliche territory, but on the other hand, why bother to include them? Guerin's break-up with her boyfriend, and his attempt to get back together again, have nothing to do with the plot and the local colour they add is just too thin and uninteresting: Guerin's broken up with her boyfriend, he makes her flustered to think aout or deal with, it doesn't affect her job, ok, why bring him in?
But whenever I see the show doing a good job, such as Alix Poisson's portrayal of Flo's slow and as yet incomplete breakdown, I can't help but remember how much of this is simply mirroring Pernilla in The Killing 1. This week, it was going back to work as if nothing had happened, drinking too much, taking too many pills, flirting in the office with an obvious sleazeball, going for drinks with him, getting pissed, proposing to lie half-naked on an Hawaiian beach with him, snogging his face off… and then going to pieces when he showed an unanticipated spark of decency by showing reservations about taking advantage of her lilywhite body when she was clearly off her head with shock. This latter bit, picking up a man, proposing to have sex with him, being unable to go through with it, was a direct steal.
Where the show scored in its own right was in little cruelties. Flo catches Julien in a cafe with ex-mistress Anne (remember episode2). It's not what she thinks, but Flo doesn't want to talk about it. Apparently her response to the affair was to pretend none of it happened so now, if he's going to force her to talk about it, Flo's going to talk. She's going to tell Julien that she was two months pregnant when she found out, and that she…
It's meant to be cruel, and in a way, Julien deserves it, though it's so badly the wrong time. Then, when she returns guiltily from her snog-out, and cuddles up to him in bed for the first time, he raises the fact that she's bought little Zoe a mobile phone for her eighth birthday, despite their having agreed not to get her one until she enters secondary school. Flo replies that she wanted to be able to speak to her daughter at any time. It's a rational, reasonable, emotionally understandable reason, but Julien's only response is to flatly joint out that Zoe is his daughter as well.
It's meant to be cruel, and I can understand where the need to say that comes from. But it doesn't fill me with hope for the family's future. Flo has shut out her pain, but she's also shut out Julien's, at the very moment he needed to share. She's set out to hurt him and he's replied in kind. Instead of bonding together, locking in step to bear the grief they're facing, Flo has forced them to stand apart, and now she needs to undo the damage, he's refusing to let her demolish the wall she built.
Answers next week, people. Who dunnit? If anyone thinks my idea is dumb, comment below with your own theories.