This began as background to an Infinite Jukebox piece, but rapidly began to outgrow the dimensions of that theme, so I decided upon a full-length reminiscence, about the strange ways in which you find the music that defines you.
As I've mentioned before, due to my parents' aversion to pop, I missed out on practically the whole of the Sixties, musically, hearing only what percolated onto Ed Stewart's Junior Choice on Saturday and Sunday morning. Until the last ten days of the decade, when I woke up on the first day of the School Xmas holidays, automatically switched my little bedside cabinet radio on, and discovered Radio 1, which I began to devour daily.
For much of 1970, Radio 1 Saturday mornings followed Junior Choice with Kenny Everett, a two hour slot full of Everett's zaniness and unpredictability – which amused me enough then – which extended to a playlist that, whilst playing lip-service to the top 30 rotation, enabled Everett enough of a free hand to include records of his own choice that no-one else was playing during the week.
One such was "The Master of the Revels", an odd, slightly rumbly song, sung by a singer with a distinctly English sound to his voice, that used a slightly arrhythmic beat to drive forward a complex, yet defiantly simple melody to words about someone who, if I properly understood it then, seemed to be about organising amusements. It was piano-led, and supported by an instrument I didn't then recognise as being a clarinet, an unusual combination for that year, when the 'Underground' was the big thing. It stood out.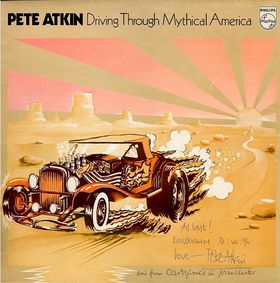 The singer was a former Cambridge University student from Bristol, named Pete Atkin. The lyrics were by a mature student from Sydney, Australia, whose identity as a lyricist would go on to surprise a lot of people (though far from enough) once he became famous for being Clive James. Back in 1970, the name, even if it had been mentioned, which I doubt, would have meant nothing to me, and would stay that way until he started presenting Granada's Cinema, three years later.
"The Master of the Revels" got played most Saturdays, I liked the sound of it, and it was reportedly starting to get some commercial transaction when Everett made that joke, the silly, irreverent, meaningless one that got him abruptly sacked by the forever hidebound, authority-beholden BBC, and the nascent pop career of Pete Atkin vanished, never to return. That was forty-six years ago.
There was more to Atkin and James' career in popular music than just that, but the only other Atkin song I heard for several years was "Girl on a Train", a song from his first album, performed on a very early version of a video for The Dave Cash Radio Programme, a brief and unsuccessful 1971 attempt to put a pre-teatime pop half hour onto TV, in the slot later more successfully occupied by Lift-Off with Ayshea.
I was next reminded of Pete Atkin in 1973. I can't remember the order in which such things happened but, variously, I saw adverts in the New Musical Express for the re-issue, on RCA, of Atkin's first albums, Beware of the Beautiful Stranger and Driving Through Mythical America (in very drab and dull sleeves, replacing the rather more attractive covers of the original Fontana releases), Noel Edmunds, on his Sunday morning show, began featuring Atkin's third album, A King at Nightfall on a near weekly basis, and "The Master of the Revels" was reissued as a single.
It didn't get any more airplay than it had in 1970, but this time round I bought it, with the 50p record token I received from the BBC for my losing appearance on Johnnie Walker's 'Pop the Question' (that was my second day: I received a £5 token for my winning appearance on the Tuesday: it's significant that whilst I remember choosing to spend the smaller token on the Atkin single, I have absolutely no recollection of what I bought with my Champion day winnings).
The song Edmunds mostly favoured from the album was the uptempo, aggressive song Atkin made of James's elegiac words for "The Last Hill That Shows You All The Valley". I wanted to tape it, but the last time Edmunds featured the album, I ended up getting the song "Carnations on the Roof", a rather drabber and duller affair lyrically, but whose words came closer than many others before or since to touching my own life, and the still-raw loss of my father.
But though Edmunds' patronage was more intense than that of Everett, in practice it was equally brief. Atkin faded back into the static, so far as I was concerned. There was another single, in 1974, from the album The Road of Silk, that I heard maybe twice, and a bit more airplay for another single the following year, off Secret Drinker, which I heard often enough to distinguish that there were album and single versions, with a slightly dubious line of lyrics 'cleaned-up' for the latter (you do not include lines like 'this city has been ours since Christ knows when' in songs you expected Radio 1, or even worse, Commercial Radio to play. Not in 1975 you didn't).
Five albums by this point. I'm stepping out of my personal time-line for a moment here, as I wouldn't learn these things for nearly another decade. Five albums: two on Fontana, re-issued on RCA (with a sight change of track-listing on the first album re-issue). All named after title-tracks, though curiously these were never prominently placed on their albums, with only one of the five coming from side 1, and even then it was the last track on that side, and three of them in the back half of side 2.
By 1976, Atkin and James were unhappy at their management by RCA: by the lack of promotion, by the lack of pressings. Tours would create a demand for albums that then went begging because copies weren't in the shops. To complete their four album deal, Atkin and James put together Live Libel, a somewhat lumpy album collecting in one place a dozen of the lightweight, spoof, parodistic songs Atkin would toss in here and there, to lighten his act. It's uneven, at best, but it got RCA off their back.
Except that this was 1976. Punk was the coming thing. The musical tide was changing. And a singer/lyricist combo whose musical roots included Tin Pan Alley, French Chanson and heavily allusive, dense literary words were the wrong act to go looking for a new recording deal that year.
So the Atkin/James pair went their separate ways, James into his writing and his slowly-growing television career, Atkin into carpentry and, a decade or so later, Radio production, first for BBC Bristol, latterly Radio 4, where he was the Producer for the epic and highly-regarded This Sceptred Isle series.
That takes care of Atkin and James for the next twenty-odd years, but what of my personal progress towards their career?
Between 1978 and 1980, I was simultaneously living in Nottingham and being mainly enthused by punk and new wave music and its various offshoots. I was beginning my turn as part of that floating array of John Peel show listeners, those who listened along for the years in which his eternal search for the new and the interesting coincided with your own ability to stretch parameters. Had I been of a mind in the early to middle Seventies, I would have been exposed to half a dozen Pete Atkin sessions, but that wasn't the case.
But I was a member of Nottingham Library and, unlike Manchester when I left it, there was a music section, and whilst most of it was undiluted crap, that wasn't always the case. For instance, in 1979 there was The Master of the Revels, a Pete Atkin album, a compilation. This was my first extended exposure to Pete's voice and music, and Clive's lyrics and I ended up recording the whole album, bar one track (which one I found not up to my aural standards I can no longer remember, nor even guess which it might have been).
It was not until I returned to Manchester in 1980 that I first began to investigate Clive James' writing. Inevitably, it was a library copy of the second of his collections of Observer TV reviews, rapidly followed by its purchase as a
Picador paperback, not to mention that of its predecessor and, as soon as it was published, the third and final volume. Really, the story starts here: having discovered how much I liked James's work, for its wit, for the underlying erudition, indeed for the worldview that lay beneath it, much of which I found I shared, although my aphoristic encapsulations of such beliefs were never as pithy as his, I turned back to the Pete Atkin albums.
They were, of course, deleted. However, my interest in comics led to my tentative introduction to MAD – Manchester and District – an informal group of SF/Fantasy/comics fans who met Tuesday and Thursdays nights in the Crown & Anchor, a real, old-fashioned, Real Ale, spit'n'sawdust pub back of Piccadilly, though in reality it was more spit'n'holes in the floorboards. And John, who introduced me, turned out to have all the Atkin albums and be perfectly happy for me to borrow and tape these. Three C90 cassettes, which lived in my car and which accompanied many a long drive I took on behalf of my firm.
Gradually – it took over a decade – I got the vinyl myself. The first three, or rather the last three, came easy and cheap, but it took a long time, and a bit more cash, to get hold of A King at Nightfall. And the first two took longer still, with Driving Through Mythical America only available as an RCA re-issue. Both these last two came through mail order lists, which was what we had to do before the internet, and eBay.
But that was the end of the story. I had all the albums now, myself, and the cassettes for the car, and I knew all the words. Car journeys were sing-alongs, unconsciously echoing Atkin's phrasing, intonation and even accent, to the best of my limited ability to duplicate a note. And I had it on the authority of a music teacher mate that I was not tone-deaf, as most people would have assumed from hearing me, but rather tone-dumb, as in I knew the sound I wanted to make, I just couldn't hit it. Not consistently. Far from always. But sometimes.
Six albums. A fair deal, lots of other artists don't get that many. But of course it was an ended story. I was lucky enough to make a Clive James signing session at Sherratt & Hughes (Manchester's pre-Waterstone's premier bookshop, though personally I always preferred Willshaw's on John Dalton Street) one workday lunch. I took along the gatefold sleeve to Live Libel, with the sleeve notes of its collection of 'insufficiently underappreciated artists', got that signed, asked if Clive was still in touch with Pete, learned he'd become a carpenter.
Clive James kept writing books. And appearing on television. I don't listen to Radio 4 more than occasionally, to comedy shows, so I never knew about Pete Atkin's involvement in This Sceptred Isle. This time, more than a decade went by.
Fittingly, it happened in Waterstone's. I was in there a lot during the Nineties. I was working for a firm I loathed but couldn't leave, and I had a Friday ritual of heading for the bookshop straight from work, wandering around in a civilised atmosphere for an hour, releasing some of the tensions, then hitting the nearby Pizza Hut for their Buy-One-Get-One-Half-Price offer on takeaways. It would be neat to assert that this was one of those Friday evenings in the summer of 1996 but I really don't recall. Either way, I was tripping down the stairs to the ground floor when my eyes were distracted by a name on a poster: Pete Atkin.
I was enormously delighted to learn that the man was not only still playing, but that he was headlining a small folk festival at Monyash in Derbyshire, not a million miles away for a man with a decent car. But delight was short-lived when I checked the date, which confirmed that this event was scheduled for the previous weekend. Nevertheless, there was a contact number which I copied down, and rang the following day. And thus I learned of Smash Flops and Midnight Voices.
The one was a Pete Atkin web-site, the other a mailing list, both the creation of Steve Birkill, a recording engineer and long-term Atkin fan who'd brought Pete to Monyash in the first place after learning he still played occasional gigs, and who obtained permission to create an official web-site. Birkill attracted the lost legions – well, not legions, but lost anyway – who'd loved Atkin/James in the Seventies, the appreciative minority that clung to their half dozen albums and still played them. Sometimes they'd found fellow aficianados, had shared the love and the arguments about what Clive James was actually saying here. Many of them had, most improbably in all the circumstances, turned their children onto Atkin/James. Now, they had somewhere to gather, to share memories and, in a way that was still small but which was firmly based, revive a career.
It was, in short, a fan club in all but name. I have always been chary of fan clubs: every fan club's welcome pack should include an absolutely massive pair of perspective-broadening glasses: but this was an intelligent, thoughtful bunch. What else could you be if you loved Pete Atkin's music and Clive James's words.
I might have missed Monyash, but by joining Midnight Voices I became entitled to purchase a very limited double-CD recording of Atkin's performance, 100 copies of which only a handful remained. It was a delight, not least for the fact that there were performances of over half a dozen songs unrecorded in the Seventies. And some of those songs – 'History and Geography' and the startlingly enormous 'Canoe' stood out – were as good as and better than anything that Fontana or RCA had seen fit to issue.
It was the purest expression of what the internet can be. In reality, Atkin and James' audience was barely bigger than it had been twenty years earlier, when the pair had earned more in royalties from a single Val Doonican cover of a single song than they had from the entirety of their recording career. But it was a focused audience, invested in the music in a way that RCA could never have been.
There were more gigs by Atkin and, because I was now inside the circle, I learned about the one at Buxton Opera House in plenty of time to buy a ticket.
It was a Sunday evening, of a day when United were on Sky, playing away somewhere, so I went to my Aunt and Uncle's to watch the game, then drove across unfamiliar routes to join the A6 south to Buxton, taking with me my copy of Live Libel, hoping to get Atkin's signature to pair up with that of James that I'd secured a dozen years previously.
At the Opera House, I got a very pleasant surprise. Atkin wasn't alone: Clive James was also on stage, mostly sat in an easy chair whilst Atkin played, switching between acoustic guitar, electric piano and grand piano, chatting to the audience between songs. There were Midvodians there, identifying each other, putting faces to mailing list names. I wasn't an active part of Midnight Voices yet, still feeling lost and overwhelmed by such intelligence and literary interpretation, so I was left alone, but I was there for the music, and to be able to sit and listen, so long after the fact, after the era, was simply delightful.
There was at least one more 'new' song, that is, one of the many written but never recorded, but that I'll come to under the Infinite Jukebox.
After the gig, I waited at the Stage Door, among another dozen or so determined figures, got my signature, had a brief but friendly chat.
The following year, Atkin played another Monyash festival. I missed it: it clashed with one of the days of the Old Trafford Test against the Australians and I had tickets for all five days.
In the meantime, Pete Atkin once again had a music career.
With a demonstrable audience behind him, the first step was making the albums available again, this time on CD. The first two were easy, and SeeforMiles records released them on a single CD, but the other four were contracted to RCA, who proved uncooperative. Their attitude, as was reported back to us, was: "Why should we licence you to reissue these albums when we could do it ourselves and keep all the money?" "Are you going to reissue these albums?" "No, we won't make any money."
But eventually, after another couple of years, RCA bent, and the other four were released. Since then, this set has been deleted as SeeforMiles went into administration in 2007, but another, and better curated set, including demos and a couple of single versions, plus the last two Live Libel tracks that got squeezed out for space reasons (one of them Clive James' own vocal on a wicked parody of the Telly Savalas version of "If") restored.
Once the back catalogue had been thus resolved, Atkin was free to think of new music. There had been a big build-up of songs in the Seventies that had never been recorded. Smash Flops had snippets from the demos made for the sadly-mythical seventh album, and the revival of interest had seen the duo come up with a couple of brand new songs. Atkin, who sidelined as pianist in the Bristol-based alt-country band, The Shrinks, had access to Lakeside Studios, and began privately putting together some demos, trying to order the material.
Partway through this process, Atkin began to realise that these works were not demos and that, subconsciously, he had been collating the backlog in order to clear the ground for a future in which there could be new songs. Forming his own, mail-order label, Hillside Music, Atkin broke the news to Midnight Voices that there would not just be a seventh album after all, but simultaneously an eighth: The Lakeside Sessions: Vol 1. History and Geography and Vol 2. A Dream of Fair Women.
I have them in that format, jumping in quickly to buy them. Not all that long after, they were collapsed into a double CD, though at present they're once again available as single CDs via the Hillside shop page on Smash Flops.
There was still more. Pete and Clive undertook a national tour, which included Manchester's Bridgewater Hall. The size of the venues depended more on Clive's name than Pete's and it was the same as Buxton: songs alternating with readings. My wife and I attended the Bridgewater Hall and had a great time. Among Clive's readings was a very powerful poem about his mother, 'Occupation: Housewife' which began by inducing tears of laughter at great, witty lines, and slid with precision and balance into emotions of such depths as to induce very different tears. Afterwards, my wife got Clive's Collected Poems autographed for herself.
They took the show to Australia. It's currently out of print, but Hillside preserved it with a double CD. We saw Atkin one more time, this time on a Midnight Voices event, in Hebden Bridge, without Clive James but still every bit as good. I haven't seen him since, and it wasn't that much longer before I drifted away from Midnight Voices: musically, I shared very little else with the rest of the audience, though the flashpoint ended up being more or less about football, oddly enough.
The mailing list operated in two forms: you could opt to have every e-mail forwarded as soon as it was posted, or subscribe to the weekly digest, a week's worth of postings on a Sunday afternoon. I started on the digest, progressed to individual mails. Somehow or other, football cropped up, and for a brief spell, maybe half an hour, half a dozen of us shared our passions. It brought the roof down, stern warnings about off-topic, apparently people were threatening to resign in droves.
And ultimately, the mailing list was pulled in favour of a Message Board format, where people could pursue what interested them and ignore what didn't. I was in a minority that didn't like that: the inclusivity, the sense of a shared audience, was destroyed in an instant, as was the serendipity. You no longer saw everything, you only saw what you wanted to.
Between this, and a couple of run-ins where I was pulled up for off-topic digressions whereas other, more egregious diversions went without comment, I began to feel alienated, and I drifted away.
From Midnight Voices only. There was another CD in 2003, Winter, Spring, this time consisting entirely of brand new songs, with the exception of the painful, and sad beyond belief Holocaust song, "A Hill of Little Shoes". But when Atkin next came to commit himself to CD, it was in the form of a retread. Midnight Voices, sub-titled 'The Clive James – Pete Atkin Songbook volume 1', contained nothing new. It was a revisit of 15 songs from the original sextet (well, quintet: Live Libel's songs weren't touched), rearranged, re-recorded.
It wasn't what I wanted. Though the post MV albums contained some stunningly brilliant songs, overall I found them less impressive than the original set. Some of it was the production, too dry, too flat for my taste, a lot was the lack of tonal balance (nearly everything was piano based, with little or no guitar to balance it out), even more was how Atkin's musical sensibilities had developed as against mine. He was a big Steely Dan fan, especially of the later albums, the jazz-oriented ones, whose aural perfection I found stifling and uninvolving. I wasn't interested in hearing songs I loved as they were reinterpreted in Pete's contemporary style. Not on record, anyway.
So that was almost that, the story coming to a second end. Clive James' health issues have come to the fore in the near decade since. In this year of death, it has been a sole consolation that the most expected one of all hasn't happened yet: it came closer for Atkin, who was hit by a bus in January this year and has consequently lost the sight in one eye. He has since returned to performing.
But there's a coda. Though I'd long since drifted away from the world pertaining to Pete Atkin, I discovered last year that the muse was not yet stilled. There was one more CD, The Colours of the Night, ten more brand new songs, three old numbers, not previously recorded. It's been more or less officially billed as the last album.
Of course I bought it. Though it lacks anything that stands out the way certain songs, even after all this time, are points on the album for which you wait each time you play it, I can't quibble with the production nor the tonal quality, for the instruments are in balance, and no one instrument dominates. And Pete Atkin's voice is still there, that wonderfully clear, distinct, so-unAmerican, so-unRock'n'Roll, still after forty-five years. Some people just don't lose it, even after they turn seventy.
I call it a coda. But it's only a coda if the main thing is over, be it a song or a story. According to Smash Flops, there are still enough unrecorded Atkin/James songs to fill at least four more CDs, if Pete should ever want to. That audience is still there, where it always has been. I don't know how many of the fans of the Seventies may have gone on ahead, nor how many may have come along to regenerate the love. I just know that the music was brilliant, and the lyrics compelling, and though there may never have been enough of us to make an Army, we were the lucky few who knew and understood, who were touched and charmed and had that unexpected second act.
So maybe there's a third act? This story has been going for forty-six years and we're none of us, Pete, Clive or me, dead yet. In a world in which hope and optimism is hard to find and even harder to believe, we look to the dream of more. We were surprised once. Please surprise us again.