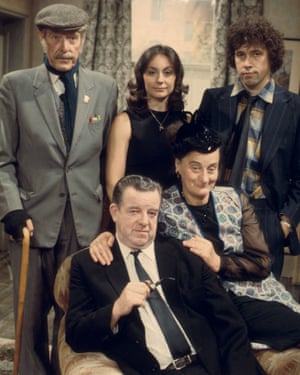 Most of you will remember her for playing the Granny in The Royle Family, but I remember Liz Smith, who is the latest to leave us in 2016's great toll, for another role entirely, almost at the beginning of her career on television.
Liz Smith played – was – Mrs Brandon on all four series' of Peter Tinniswood's sitcom I didn't know you cared, its title, and the underlying plot of its second series, taken from his second novel about the Brandon family. Robin Bailey as Uncle Mort, John Comer as Mr Brandon and Liz Smith as Mrs Brandon, Jesus!, was that series blessed with a heavyweight cast.
Of the three, Liz Smith was probably the least experienced, but did that show? No, it didn't. She was immaculate, brilliant, crushingly funny. And she went on to be as willfully, and unashamedly, oddball in everything I saw her do. This bastard year cannot be over fast enough.
This blogpost's title? Tinniswood already had one catchphrase lined up, Carter Brandon's mumbling, "Aye. Well. Mm." and he gave Robin Bailey the angry, "I served all through t'First World War!" Liz Smith got the spectacularly meaningless, "It's not conducive, our Mort, it's not concomitant," with which she would weekly berate her brother.
It never caught on, except with me. I remember it fondly, I remember Liz Smith spendidly, and I mark her passing, however grand the age, with regret, yet again.