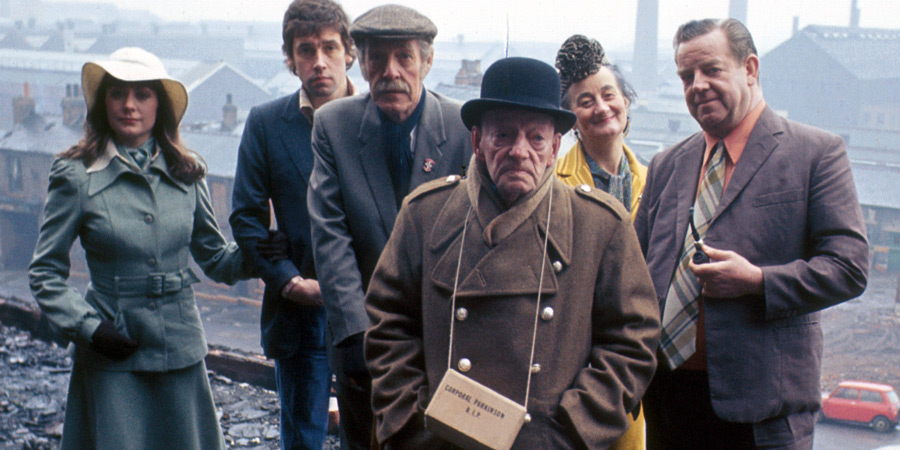 Clearly, I Didn't Know You Cared made enough of an impact for the BBC to re-commission it for a second series in 1976, though there were only six episodes this time, and it was moved from Tuesday night. It had to have been: Tuesday Night Football would continue until 1977 but I did get to see the series this time.
There were a number of changes made to the supporting cast. Auntie Lil had disappeared without explanation and Bert Palmer as Uncle Staveley was now a member of the Brandon household. Two of Carter Brandon's workmates from the books, Louis St John, the West Indian fitter, and Rudyard Kettle, who never went anywhere without his gauntlets, appeared in a couple of episodes. When it came to Louis, the contemporary racist epithets he attracted in the books were out of the question for a sitcom, but the vigour with which he was played by Paul Barber, many years before his role in Only Fools and Horses, was a small delight.
Unlike the first series, there was no underlying story as such, nor, despite the presence of a considerable number of lines and exchanges from the novels, did what story there was utilise any of the books. It began with Carter and Pat's return from honeymoon in London, and dealt with their adjustment to married life, firstly under the Brandon roof, then in pursuit of the perfect new home for young executives, and lastly under the threat of moving in next door to Pat's mother.
This gave Stephen Rea and Anita Carey much more exposure than in the first series, especially so in the second episode where, having retired to bed at 7.30pm but not for sleep, they are disturbed by a succession of visitors completely oblivious to the fact that Pat wants more than a bit of passion. And Carter's coming round to the idea as well, if only everybody would stop telling him to put his pyjama jacket back on.
Though Carter gets away a lot to sit and moan with his Dad and two Uncles, the extra attention being paid to him and Pat as a couple has the unfortunate side effect of throwing Uncle Mort and Mr Brandon into greater relief with their unrelieved misogyny. With almost no countervailing tendencies, it tends to get a bit monotonous, and coming from the mouths of real people rather than the charged atmosphere of the book, the misogyny is far too prominent and too solid. It doesn't work at all well.
Nor does it help that, as Mrs Brandon, Liz Smith gets correspondingly less time onscreen, and when she does she's too often reduced to silence by Vanda Godsell as Mrs Partington, Pat's Mum, who's a dedicated and forceful talker.
I've mentioned Uncle Staveley, and can I say how brilliant Bert Palmer was in a very limited role, as a deaf and wandering old codger who's mainly the butt of slapstick humour. Practically his first words in the series are his catch-phrase, "I 'eard that. Pardon?", which arrives with regularity. And Deirdre Costello gets a bit more room as Linda Preston, still gleefully overplaying her part, but allowed a little more emotional depth as she slips out of her brassy, sassy character to demonstrate a genuine feeling about Carter.
Overall, the second series wasn't as good as the first, but it redeemed itself in a brilliant final episode, filmed mostly out of doors. In order to rescue Carter from living next door to his mother-in-law, Uncle Mort plans to persuade the widow Mrs Macclesfield (whose name no-one can remember and who gets addressed by half the towns in Cheshire at one point or another, including Droylsden) to re-marry and stick where she is. He's planning on foisting the petrified Staveley off on her but finds himself accepted instead, without even knowing his bride-to-be's Christian name (it's Persephone!).
But on the day of the intended nuptials, along comes the happily litigious gas-meter reader, Mr Fallowfield, a former admirer and would-have-been husband of the fair Persephone, if only her third husband hadn't gone and recovered. Mrs Macclesfield is torn between suitors who, like gentlemen, decided to duel for her hand by playing a game of Crown Green bowls for her.
And if you have difficulty imagining that a game of bowls can be in the least bit funny, let alone hysterical, just watch the final episode of series 2.
It made for a fine ending, but to my surprise, my favourite part of series 2 was Anita Carey's performance as Pat. Though she's part of the Brandon family now, she's the outsider in every possible sense, devoted to Carter and devoted to her vision of a modern life of lounge/diners and fitted Venetian blinds, young executives sipping sweet sherry, and going up in the world. Pat's out of place, but prepared to fight for her place. She's not afraid to fight Linda Preston over her Carter, even though she hasn't a tenth of the ammunition. And though Linda's the obvious blonde with big knockers and the willingness to flaunt them, and Pat/Anita's a sweet-faced but unspectacular girl with nothing like the cleavage, I found myself on her side throughout. Pat's life is never going to go the way of her impossible and horizonless dreams, but she's a nice lass underneath, and doesn't deserve what Carter Brandon's going to become. My eyes were on her every time she was onscreen, and her wardrobe was superbly chosen.
Unfortunately, this was her last appearance, When series 3 appeared, both she and Stephen Rea had left the series, and Carter and Pat's roles had gone to other actors, players who were not as accomplished actors but who I always felt fitted my conception of the parts more closely. I wonder if I'm going to think the same about Anita Carey's successor after these bingewatches?