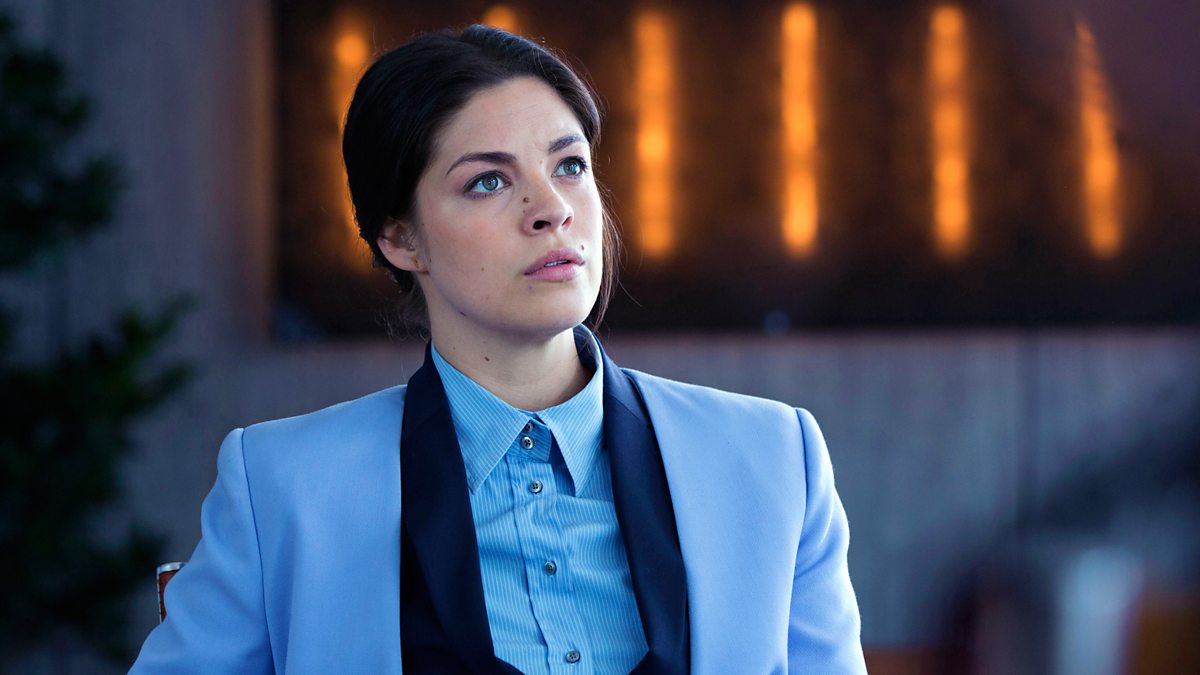 After last week's snark-infested introduction to the second series of Bedrag (Deception), I found the next pair of episodes to be extremely confusing. On the one hand, the show is displaying clear signs of taking off into very serious, and very deep-lying waters, in all three of its inter-twined strands. On the other, my distaste for each of its' trio of heroes is growing, and in one case is turning into disgust.
The dichotomy presented itself in the opening moments of episode 3, which immediately had me both admiring and groaning, and which became emblematic of what was to follow.
We ended last week with Nicky, growing increasingly curious about the business of the enigmatic but laid-up-with-heart-trouble P, tracing the fruits of the wiretap back to the Big Bad, Knud Christensen, but being caught out trespassing by the man himself. Christensen is all avuncular and secure, wanting Nicky's name and threatening him with the Police. But Nicky, who in series 1 would have panicked nearly as badly as would Bimse the Bozo, counter-threatens by revealing that he is wire-tapping for Christensen, who lets him go (though not without a warning, to both Nicky then, and P very shortly afterwards, about how unwise such things are).
Nicky, having successfully faced down the Man, returns to his car. Where he promptly reverts to most abject cliche by pounding on his steering wheel to relieve his frustrations. Seriously, does anyone outside crap television ever pound on their steering wheel in frustration? And they always do it three times: not four, not two, but bam! bam! bam! Cripes.
But the problem is that, as the various stories start to unroll properly, we start to see that Follow the Money 2 is getting very serious indeed. On the one hand, we have the Fraud Squad, investigating what appears to be a disgusting scheme by one of Denmark's major financial institution, Nova Bank, to force small but promising businesses into bankruptcy so that their assets and customers can be taken over by already-established businesses at an undervalue.
Then we have Nova Bank trying to takeover the up-and-coming and entirely innovative Absolen Bank in a very hostile manner, applying public pressure and naked appeal to Shareholders' greed on the one level, and dirty tricks on the other.
Christensen is behind both of these schemes and, on the third hand, we have P carrying out the dirty aspects of the jobs by remotely operating the increasingly efficient Nicky to wire-tap, deal drugs, blackmail and, entirely off his own bat, viciously assault and probably seriously injure someone who stands up to him.
Let's stick with Nicky for the moment. Remember that he started off in series 1 as an experienced car thief, looking to clean up his act for his wife and her baby bump by becoming a garage owner, but getting mixed up with the rather more active P. By this series, he was a regular 'employee' of the Swede fixer, as primarily a messenger boy, but P's health problems (double-bypass heart operation) have led to him being promoted to an active role as his stand-in.
What we're watching here is Nicky going through an apprenticeship to become another P.  He's taking to it like a duck to water, which is disturbing to watch. For the sake of his wife and his trusting kids, you want him to come to his senses, back out, go back to just petty crime (because this guy is never going to actually go straight, you can tell).
But already it looks like its going to be too late. Nicky forced Bimse into a dangerous scheme to recover P's Black Audi, that Bimse has sold to an East European gang for shipment abroad, and all so that he can tell Bimse to take it to the Police, cough for Nicky's assault on Mess last week, and do Nicky's time for it. Sure, he'll get 20,000 kr a month for it, but if the Bozo won't voluntarily do a head-first into the shark-infested pool, Nicky will kick him in there, without a a qualm, and without any 20,000 kr a month.
If that's not enough of a bastard's trick, Nicky's next job is to provide drugs to the son of a major investor in Absolen Bank, and blackmail the Dad into voting Nova's way to ensure the photos don't get into the Press. On the way, Nicky ends up snorting coke himself and, whilst coked out of his brain, staying out all night and impliedly shagging P's daughter.
Let's just go back a moment for a brief scene where Nicky tells his missus that he hates his dead father, who assaulted him and cheated on his mother. Unusually, the scripters have her ask and him explain why he's never told her this before, which he passes off, indirectly, as a determination to leave it in the past, but which is really so that we will readily understand his loss of control when, the takeover bid having failed, he pursues the Dad, who didn't vote for Nova Bank, and kicks the potentially living shit out of him for not defending his son.
One youngish man, on a dark path, leading only downwards. I bet P doesn't take too kindly to Nicky shagging his daughter…
I've already had to reveal that the Nova Bank takeover has been thwarted, at least for now. This is the story for Claudia the Amoral. Claudia is determined to stop Christensen having this victory, and says so, impassionedly, to convince another top-ranking businessman to enter the fray as a White Knight. The big problem, and this is directly voiced by our old friend, Jens Kristian, is whether Claudia means this, or whether it's a ploy.
Claudia says she means it, but we have our doubts still. Claudia is still set on getting her life back as quickly as possible, which suggests that she's not thoroughly internalised the message that massive fraud and dirty financial tricks are not ideal behaviour. She's already trying to skirt some of the conditions of her parole, and expecting her Parole Officer to bend the rules in her direction, just because that's what she wants.
Of course, she's ideal to head off Nova Bank's takeover, because she knows what sort of dirty tricks, above board, that they'll use. Pardon my ignorance of such things, both here and in Denmark, but do companies aiming for a takeover really get to go on TV finance programmes and basically say that the people refusing to sell smaller, successful, innovative, creative enterprises are a bunch of shits for not letting us buy them out considerably over the odds so that we can destroy absolutely everything remotely innovative about them and just make shitloads of money (I paraphrase)?
Claudia's biggest problems are the Absolen twins. Simon is basically a wet and a weed and of no practical help whatsoever (until the very end of episode 4, to which we'll come shortly). Unfortunately, the very much more effective Amanda (hello, Sonia Richter) doesn't like Claudia that much, doesn't agree that she's completely and utterly right, and is, let's not forget, a recovering coke addict (and I don't mean Diet, or Cherry).
And Amanda is struggling. There's a powerful scene, opening episode 4, where she's at Narcotics Anonymous, where she's bitter and sarcastic, wanting – needing – a fix, and unwilling to accept what she sees as platitudes from the others in the group. It's suggested, very cleverly, that Amanda is a very intelligent woman, much more so than the people her life causes her to associate with, and that her use of drugs and drinks is to suppress the frustration of cdealing with those she sees as stupid.
That's bent in a slightly different direction later when, to Claudia, she affirms that she's starting one of those periods where she keeps getting strange thoughts. She says this whilst constantly sipping from a wine-glass she keeps refilling. The inference is a mental issue, as is a reference to enjoying being the centre of attention, but it's not inconsistent with the notion that she's simply too bloody bright for everyone else. There also some hints at secrets in the background of the relationship of the twins (an incestuous fascination frustrated by Simon's supposed homosexuality?).
Anyway, Amanda's out of control and in no fit state to be the Bank's public face in the EGM that will decide its fate. But when the already lesser Simon is completely floored by having his entire speech, word for word, given by Nova Bank's representative, Claudia has to get Amanda in at the last second, for a crowd-turning speech that saves the day.
Am I the only viewer who is wondering if this miracle recovery was brought about by Claudia slipping Amanda a fix? Let's see.
Before leaving this strand, let us pause to recognise that Simon isn't quite the weak link he has been presented to be thus far. Claudia's too busy putting out fires (and enjoying a surely premature sneer at Christensen) to care about the plagiarised speech, and the excitable Amanda dismisses it as Simon having been too bloody predictable, but he's suspicious. Very suspicious. And on the right trail. It takes ripping the room apart, but episode 4 ends with Simon finding the wire-tap, with an entirely justifiable cackle.
I've saved the worst for last, and the worst is Maverick Mess. You already know what I think of him, but honestly, throughout these two hours, this idiot topped himself over and over again. I mean, at one point, his boss, Nanna, head of the Fraud Squad, screams in his face that he's so bloody naive, he only sees things in black and white, which is spot on the money (he also can't wait two seconds for anything, the big kid), and then the programme has him acting like he's the winner, and in the right.
Basically, he and Alf, with the increasing assistance of the computer wizard, Henriette (this series' version of The Bridge's John: there's only ever one person who know how to do more with a computer than surf Facebook), are building a case. It starts with Nova Bank's Bjarke Strand, the middle-manager on the Crisis Team, who selects which small businessmen are to be forced to the wall. Mess and Alf investigate him for signs of unreasonable wealth, of which there are none, until he's caught stepping out with an attractive blonde (tsk. And he with the lovely and trusting Lise for a wife, plus eighteen month old twins).
Mess proposes to stalk Strand, get proof of his affair and blackmail him into coughing up, which is probably page 5 of the Fraud Squad Operating Model. Instead, it turns out far more than an affair. It's a business deal, with prominent businessmen. The blonde is a professional Trustee in Bankruptcy, who sells off the businesses forfeited by Nova Bank (at a precise 7% below valuation every time), to these very businessmen.
Mess, very professionally, and now on page 7 of the Fraud Squad Operating Model, shows her photos of Hans Peter with his head in a pool of his own blood and shouts in her face until she inadvertently gives something away.
Moving on to page 8, he arrests Strand and, when he won't talk, promptly calls in a favour and has the claustrophobic Strand taken to a spare cell in prison for the 24 hours until he has to be arraigned. Fur hilven! I don't mean the Police cells, I mean an honest-to-goodness, doing-their-bird, fucking State Prison!
It works, of course, we are in idiot country here and given what issues the series is starting to develop (and I haven't even finished exploring them all), we get stupidity like this? Strand knows nothing more than that he's told who to push over the edge, from a higher-up department, but he has something interesting to tell them: he knew they were coming.
That catches our intrepid pair's attention. Yes, Strand was warned they were on the way to arrest him, and was told to get out of the country for a few days, because it'll all blow over, the fix is in, the case will not proceed, the Head of the Fraud Squad will kill it.
This isn't actually news to the viewer. Episode 3 ended with Nanna insisting on getting every detail of the burgeoning case, and then calling on Christensen, though episode 4 suggested that she wasn't entirely under his thumb, just going to make sure that the investigation didn't get above a certain level at Nova Bank. Of course Mess, with that subtlety for which he's famed, heads straight for this restaurant-cum-bar where Nanna is out with some bloke and accuses her at thhe top of his voice of being in Christensen's pay. Smart cookie.
And yes, Nanna has to obey some orders. Christensen's got a hold over her. And guess what it is? It's all Mess's illegal fuck-ups from series 1, over Energreen. Nanna covered for Mess and Alf over everything. She put her job on the line for him, and her reward was to have Christensen lean on her to interfere with this investigation, and the dumb, stupid, self-centred fuck can't even lessen his contempt for her not being as pure in pursuit of crooks as he is.
Do you wonder why I loathe the self-righteous bastard?
What Nanna does next is resign, which is a highly principled step at deep personal cost to herself – cost brought on because Mess was such a stupid bastard in series 1, let's remember – and what is the git's response? I mean, she's not just thrown herself on the sacrificial sword to protect him, she's left them a lead that points directly to Christensen himself at the top of every woodpile. Does Mess how the slightest sign of personal responsibility? No, he's just pleased to have an obstacle removed, and Alf drips on his neck that it's Mess's shining example that's inspired Nanna to do the decent thing.
Do you wonder why I find this series confusing?
But that, even now, is not all. There is the lovely Kristina, Mess's wife (though she doesn't wear a ring), mother to his children, Esther (who has vanished without explanation) and Albert, and putative mother to a third baby. Only Kristina has sclerosis. And doubts.
Serious doubts. About her age, her condition, her future and the fact that she might not have a long one. She has very serious concerns about birthing a baby that may very well lose its mother at an incredibly young age. What mother, or possible mother, could face a late-life pregnancy in such circumstances without very deep thought about the consequences?
But Mess wants the baby. And what Mess wants, Mess has to get. It's all dead simple to Mess. We didn't have Esther and Albert under ideal circumstances. Look at this home movies of our children when they were dead young. It'll all work out. It might not happen. I CAN'T THINK ABOUT IT.
There's a line Mess has, when Kristine brings up the real chance that she might die sooner rather than later. "I can't go around thinking that you're dead already." It shows that the scriptwriters are not entirely stupid. It's an incredible line, I feel it, I understand it, I understand how this feels to him, all from that one line. He loves her, he doesn't want to lose her.
But he's also insisting on her having this baby, at her age, in her incurable medical condition, out of her body, with all her fears and doubts, and he's prepared to emotionally blackmail her to get his way, and take a risk with shortening her life, and he won't even fucking think about her side of it?
Do you seriously wonder why I loathe the self-centred twat?
So. Let's hope for something a bit better next week. Suddenly, we have a story worth watching, worth thinking about. I just wish we had a set of 'heroes' I could better respect to play it out.