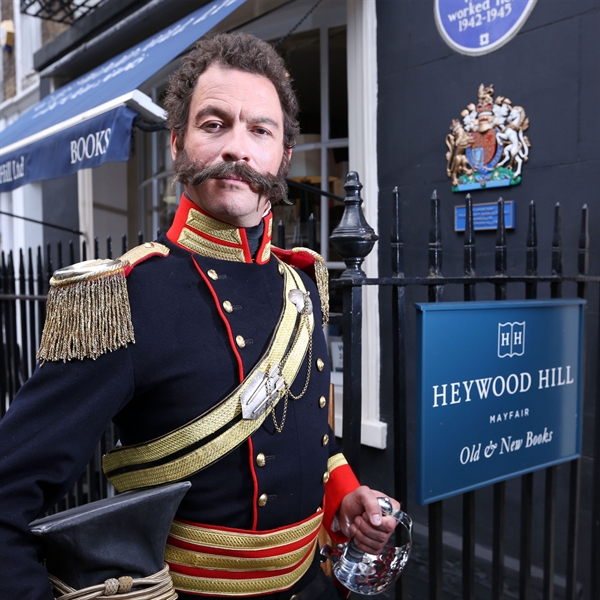 The next phase of Sir Harry Flashman's career takes us from the end of his successful campaign in Abyssinia in 1868 to the long-overdue conclusion of his American escapades in 1876.
It's a period that takes in several adventures that we know of only in passing, and seven years of Flashman's middle age during which the pace at which he goes through escapades may well slow a little.
Flashman leaves Abyssinia in May 1868, and we have no reason to doubt that he returned home, with his usual urge to never leave again. In the summer, he travels to the Mediterranean to meet Emperor Franz-Joseph and Empress Elizabeth of the Austro-Hungarian Empire, to receive the Empire's highest honour, the Order of Maria Theresa, in honour of his service to the Emperor's late younger brother, Maximilian.
Mention should be made of Flashman's reference to observing a battle from a Hot Air Balloon, which he did once, whilst in Paraguay. In the absence of any other information, Flashman aficianados have tentatively ascribed this to the War of the Triple Alliance, 1864 – 1870, and have suggested that this incident took place in 1868, though no-one has come up with any explanation for him being in South America at this time.
On the other hand, there is no mention anywhere in the Papers of any occurrences out of the ordinary in 1869. And Flashman does mention Elspeth developing a passion for travel somewhere in the years leading up to 1875. Though he only mentions European/Mediterranean destinations (the Black Forest, the Pyrenees, the Italian Lakes, the Holy Land, the Pyramids and Greece), it's not implausible that this might have started with a trip to South America.
We do know is that Flashman was involved, in some unspecified capacity, in the 'Franco-Prussian nonsense' (July 1870 – May 1871), and was in Paris for at least some part of the lengthy siege of the City. During this period, he renewed acquaintance with his old Civil War comrade, General Philip Sheridan, and first met the journalist Stefan Blowitz.
Unfortunately, Flashman has also referred to acting as Deputy Marshall to James 'Wild Bill' Hickock, and holding the latter's guns in the confrontation with the gunman, John Wesley Hardin, in Abilene (April – December 1871). How (and why) he got to Kansas from France is a perfect mystery, especially as he's certainly not brought Elspeth along.
It would be nice to think that these incidents were followed by a peaceful period, indulging Elspeth's travels. And these would, of course, be a perfect excuse for Flashman to be in Egypt whilst Prime Minister Benjamin Disraeli was securing the Suez Canal shares for Britain in 1875: Flashman is involved in some aspects of the negotiations, even if only as witness to what he openly suggests is double-dealing by the politician. Ultimately (but presumably much later), this would lead to the impounding by Bailiffs of all copies of Flashman's official memoirs, Dawns and Departures of a Soldiers Life. Three volumes were written, and Flashman must have had some kind of leisure time in which to write these, very carefully.
Not all Flashman's time is spent travelling. Among those of his conquests who retained his interests throughout his life was the actress and future Royal Mistress, Lily Langtry. Since Flashman boasts of 'being aboard her' before HRH, that relationship must have begun in 1874, placing our hero back in London for some time.
But by 1875 at least, Elspeth is definitely interested in travelling further afield, and so Flashman does take her to America, to the United States, where he finds his past catching up on him.
The Flashmans head first to Philadelpia, for Phil Sheridan's wedding, allowing Flashman to reacquaint himself with various of his former Army colleagues, including George Custer, whom Flashman barely knew during the Civil War business, but who adopts him now.
Custer is, as usual, on the outs with Army authority, and especially his former Commander-in-Chief, Sam Grant, now President. Custer has no compunction about using Flashman against Grant, any more than Grant has about involving Flashman in the negotiations with the Sioux over the Black Hills of Dakota, where gold has been discovered.
The negotiations are not being carried out in good faith, except perhaps for the cynical Flashman, who counsels his old Indian contact, Spotted Tail, rather more honestly than anyone else on the white side does. When he's not worrying about whether Elspeth is romping on the prairie with the old chieftain that is.
But Flashman has concerns of his own. A certain businesswoman, a Mrs Arthur B Candy, is attracting his lustful eye, with ostensibly a business proposition, calling on Flashman's supposed influence with German Chancellor, Otto von Bismarck. Flashman knows that he has absolutely no influence whatsoever, but is happy to go along if it will get him into bed with Mrs Candy.
He even allows her to lead him into the same territory as the Seventh Cavalry, complete with the unstable Custer, are entering, in pursuit of the Sioux. But this is a serious mistake, for Mrs Candy is now who she claims to be: she is Cleonie, Flashman's lover and Susie Willinck's whore twenty-five years ago, who he sold to the Indians. She has endured, hating him now as much as she loved him then, and now she's discovered him back in America, she wants her revenge. Kidnap, and torture as only an Indian can, by her son.
Two factors disrupt Cleonie's revenge. The Indian camp to which she has Flashman carried is that on the Little Big Horn river, the day of Custer's fateful attack. And her son, who doubles between being an Indian Brave and an Army Scout of some repute, is not just her son, but Flashman's, and he has a mind of his own when it comes to the old man.
So Frank Flashman Grouard rescues his father from the Battle of the Little Big Horn, and nurses him back to health before delivering him to Deadwood to return to Washington. He rides away forever, leaving Flashman with a heartache that lasts all of sixty seconds.
Flashman wastes no time leaving Deadwood on the first stage, but first he bumps into his old friend, Wild Bill Hickock, to whom he tells the truth of his long American odyssey. It makes no odds: unknown to Flashman, as his stage leaves town, Hickock has been shot in the back in the saloon.