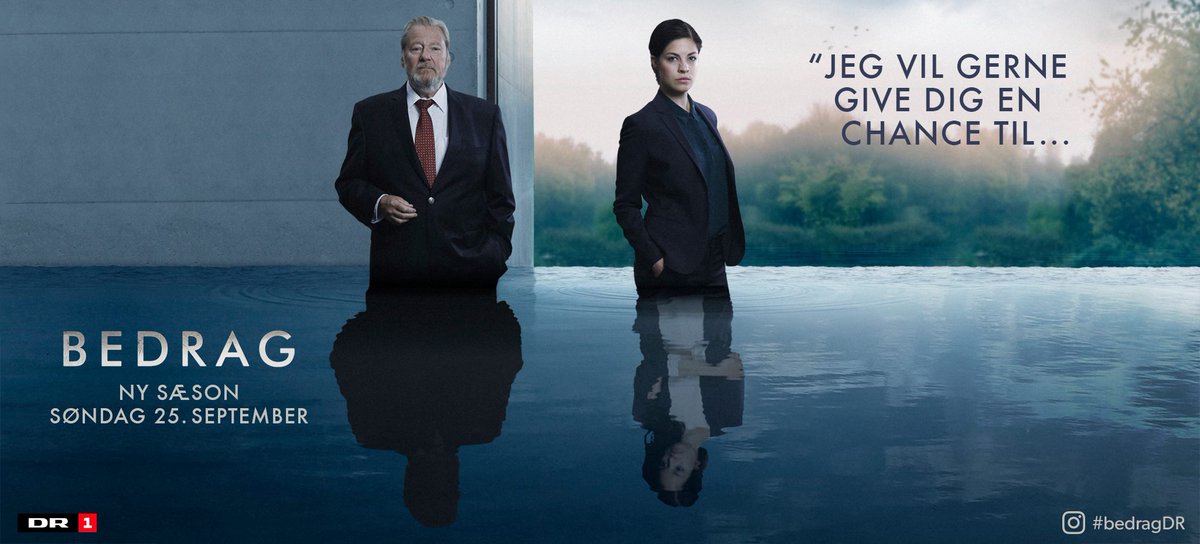 It was a long old double episode this week, covering a lot of ground, so much so that the two episodes felt, at times, like transmissions from different series. That this was so was down to the performance of Maverick Mess.
The first part, episode 7, could have been sub-titled 'that idiot at his fucking worst' and I would have still thought it didn't go far enough. The BBC blurb had it that Mads was impatient, and that too was an understatement. Given that he spent the entire hour either raging at his boss, or raging at Alf, his trusty sidekick, for not being willing to completely smash the law to pursue Mess's vendetta against Big Bad Knud, or else lying and bullying to smash the law in direct defiance of temp boss Henrietta's instructions, and incidentally seeing Amoral Claudia at Absolen Bank, jumping to completely the wrong conclusion about her working for Big Bad Knud and then lying and bullying first her Parole Officer then Claudia herself, this was a fine example of how not to run a Fraud Squad based on intricate investigation, careful collection and interpretation of sensitive and intricate information and, above all, PATIENCE, you cretin!
Mess was on the rampage, convinced of his own rightness, his own righteousness, heedless of the concept that just because a thought had crossed the lonely wastelands of his mind, that did not make it concrete and irrefutable fact.
No greater demonstration of this was there than the end of the episode when Claudia (being illegally wiretapped) accepted the lovely Amanda's suggestion to set up a meeting with Big Bad Knud. The Police have the meeting (legally) wire-tapped and Mess is all sweary and up himself about how Claudia lets Mr Christensen know the fuzz are onto his Risk Management Departmennt scam, so he'd better hut it down (on, and by the way, hand us back those one-sixth of Absolen customers you were stealing, to put through the ringer).
Mess goes mental, he goes postal, he goes abso-bloody-lutely crackers at how he's been betrayed, until even Alf spits back at him for what a fucking disgrace he is as both copper and human being. And then the script slaps Mess one around the chops as Claudia phones them up to tell them what she's done, and that they now have her in a trusted position where she can get the dirt for them on Big Bad Knud.
Ah.
Collapse, if there were any justice, of stout party, but Mess is our hero, so the twonk gets away with barely even apologising, and behaves properly, sensibly, reasonably and even to a large extent like a Fraud Squad policeman throughout episode 8.
Then again, much of Mess's time in the second half is diverted towards his real agenda, which is Vendetta. Mess still wants Sander Sodergren, and he wants him bad, so now he's actually on good terms with Claudia, she spills to him two key facts. Firsrtly, that Sander's first destination on leaving Denmark was to be Frankfurt, and secondly the alias under which he was traveling: Stig Lorentzen. She also tells him that Sander was not alone, that P, the Swede, was with him.
Thus, by a process of real deduction, our Maverick is able to track Sander to Sao Paolo in Brazil (it looked like Greece to me, but hell, I've never been to either one), where he disappears. At this point, a very Sander-specific unsolved murder victim crops up, soon DNA-ed and ID-ed. And by comparing passenger lists on the flight route, our boys track one Bo Peterson, a Swede aged 59, who's recently been in hospital…
So Mess and Alf call on P's home away from home, catching him as he's packing to leave. Mess has warned Alf in advance that this is the guy who killed his lady reporter friend Mia in series one. P shuffles about weakly, denies everything, fakes a heart attack, needs his pills. Alf follows him to the bathroom, but instead of pills, P )or should we now call him Bo?) produces a silenced gun from the bathroom cabinet and shoots Alf twice in the stomach with it.
Alf is not yet dead, which is a surprise, given P's experience and skill level, but he's in a really shitty situation, and that's the cliff-hanger on which we pause.
Obviously, I've concentrated for so long on Mess, but Claudia's story has gotten intertwined with his, and as we reach the end, Nicky's is about to cross lines in a manner that has been so thoroughly foreshadowed this week that we don't need the last two episodes to know where that's going.
But Claudia first. I've already mentioned how Nova are digging their claws into Absolen by extending their Risk Management team role to one whole sixth of Absolen's customers. Amanda is horrified but Simon isn't. He's so very thoroughly already gone native with Nova and Big Bad Knud, the muppet, and is using Nova to expand Absolen by taking over a progressive French Bank, Credit Thingy (whose chief Legal Adviser just so happens to be Amoral Claudia's ex, and father to her boy Bertram, Steen).
Claudia tries to head Nova off by getting Steen to slow down the sale, put conditions on that will shut Nova out, but Steen's on the edge of financial ruin if this deal doesn't go through. Demonstrating that she can be at least as ruthless when she wants, Claudia goes behind his bank, only to find that Credit Wotzit (begins with an S, that's all I can remember) is desperate for the money.
And we find out why in the second half, courtesy of a Nova risk manager who gets abruptly terminated, and who should be escorted out of the country by Nicky. He spills the beans to Amanda and Claudia: Credit Oojah has a lot of dodgy loans out to French tech firms and if the tech market drops just one leedle percentage point, it'll drag the French Bank under.
And if it drops just one half more, guess which Danish bank goes with it?
And whilst we're guessing things, just what do you think Big Bad Knud is manipulating?
Simon, the would-be Knud Jr, gets presented with the evidence that he's been nothing more than a sheep in sheep's clothing among all these wolves, and can see for himself that all those promises Christensen made aren't worth the air in which he spoke them: Big Bad Knud does not write things down, as Claudia has found, trying to get some evidence of fraud that points to him, not her. Whilst she and Amanda rally to call an overnighter to rescue Absolen, all Simon can do is sob.
And Claudia, after Christensen didn't fall for her 'sign here and here' trick, is mortally afraid she's been blown. When she hears about Sander, it's not just him and the memory of that screw on the kitchen table she weeps for. Mess's assurances that he and Alf will look after her are of curiously little comfort. And she's right to be scared: she's being followed by Nicky.
About time we got to him. After last week's balls-up with little Olga, Nicky's in the doghouse. P won't return his calls, two men in a black car are permanently hanging around the garage, his little boy Milas goes missing for a few minutes. Nicky can't take it: he grabs and tortures one of P's men, holds the Swede's daughter and gunpoint and tracks him down, threatening him to his face.
But P/Bo has been training Nicky up to take over for him, and he talks Nicky down, until the only person he uses the gun on is the thug who led him there, killed in cold blood.
So Nicky replaces P as Big Bad Knud's go-to guy. He's still not flawless, but he's getting there, and all it costs him is the ability to respond to his lovely wife, Lina.
And right at the end there, he's following Claudia, and she leaves a file for Mess at his house, with the lovely but weary Kristina. Kristina, whose late-life baby bump is now showing a long way out. Kristina, who's been told that her sclerosis has been concealing a quite advanced case of cystitis. Kristina, who'd been told she needs complete rest or she's at risk of premature delivery (i.e., miscarriage). Kristina, whose idiot husband is so obsessed with nailing Big Bad Knud, he can't spare a second to listen to her so she has to confide in Alf instead.
Kristina, home alone with a file in a house towards which Nicky is advancing, under instructions from Christensen to get it back…
So  tune in next week for the inevitable, and whatever else is planned to end series 2. And don't worry about Alf, shot twice in the stomach at contact range by a master-assassin: whilst trying to find out the name of that blasted French Bank, I happened to catch site of the blurb for episode 10. Alf hasn't bought it. The Main Character Exemption applies again. I bet Mess could survive being hit by an Atom Bomb…