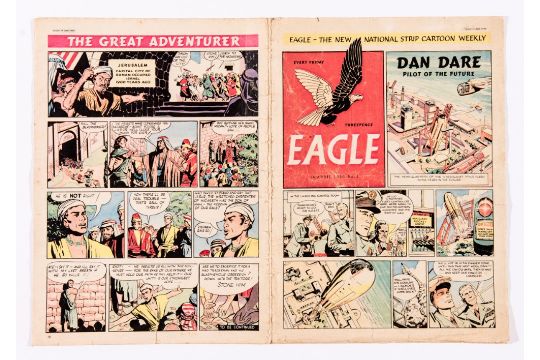 It's just over two years ago now. I was still in the relatively early stages of a blog series about Dan Dare – Pilot of the Future, reading and studying all the official stories in the canon created by Frank Hampson, a genius son of my home city, Manchester. I wasn't rushing things: the early stories ran for anything between six and eighteen months at a time, which was a lot of reading. Still, it took me the best part of six months for the penny to drop.
I'd been introduced to Eagle in late 1963, less than halfway through the long decline, but I'd become a Dan Dare fan just like all the other little boys who'd preceded me in the dozen plus years the comic had then existed: just one front page, and we were gone.
From the first week of 1964 until about two months after its ignominious end, merged into Lion – which had begun as a cheaper, tattier knock-off of Eagle – I got it every week, apart from that one when the newsagent forgot to deliver it. I had a complete collection from that point on.
A long time passed. The comics went to the children's hospital, I went on to other things. I proved to be one of those who still loved comics as an adult, though mostly American ones. But there were those landmark Dragon's Dream collections of the Man from Nowhere trilogy, and Alastair Crompton's magnificent The Man Who Drew Tomorrow that didn't quite make it to publication before Frank Hampson succumbed to cancer, that reminded me.
And there was the fellow fan who, long long ago, alerted me to Manchester's Central Reference Library having bound editions of Volumes 1 to 10 of the Eagle, 1950 to 1960. Dozens of Saturday afternoons I spent, reading, researching, making notes with the ambition of writing a book about Dan Dare.
It would have been possible, even relatively easy, to have bought back issues in the Eighties, complete volumes in one go, instant collections. I had the money, but not the room, so I let the opportunity go.
When I did start to collect old Eagles, it was the early Nineties, and I had a plan. Since Volumes 1 – 10 could be read any old Saturday afternoon, I would focus on everything after, try to build a collection of Volumes 11 to whenever Dan Dare went into reprint (Volume 17 no 2, incidentally). My main source was Sheffield's Old Magazine Shop, from which I returned with treasures. I would drive over on otherwise unoccupied Saturday afternoons with my scrawled out list in hand, and once I started following Droylsden, every away game that saw me traveling through Sheffield included a visit, no matter how depressed the market was.
Sometimes I'd dig a bit further back, if something particularly cheap turned up, but the objective was still Volumes 11 onwards. Anything more was just a pipe-dream.
Then along came a wonderful wife and three brilliant step-children, and old freedoms to splash my money on whatever frivolity I chose became a thing of the past. I had no regrets. She was with me when I passed through Sheffield, but the stays were shorter, the searches more desultory, the collection no longer growing.
Like I said, with life much changed, I was several months into writing my Dan Dare series when the penny dropped. I did an eBay Search for Eagle comics. I wrote about the experience here.
That was just two years and one week ago today. The ease, and relative inexpensiveness, of collecting started that old ambition of collecting Volumes 11 – 17 in full. And, who knows, maybe, in time, working a bit further back, those late Fifties volumes where I had some issues already.
I've still not been back to re-read the bound volumes at Central Ref. I searched 'Eagle Comics' on eBay at least twice a week. Once you strip out the results that obviously don't relate to my Eagle, there's still somewhere around 4,000 items whenever you search, so I go through the first ten pages, make a note of when the last item is due to end, and re-search when that item will be on page 1 instead of page 10.
And slowly I extended my ambition. Maybe, if I was patient, if I kept my eyes open and didn't overextend what I could afford, maybe, just maybe I could, perhaps, one day, get a complete collection? It's a pipe dream.
Well, guess what, people? Today I have added three more issues to my collection. They've yet to arrive so they don't get knocked off the list until they do, but once they arrive, my Wants List is in single figures.
That's right. I am nine issues away from a complete sixteen year run of the Eagle. Nine issues. Nine.
Of these outstanding issues, six come from volume 1, and I am currently Watching four of them. One is No. 1, which I do have, but in such a ratty state, I will still be on the look-out for a better copy. One sold today on eBay, for nearly £80: far too rich for me, unless, until it's the only one left and then… I'll think about it.
And there's maybe a dozen or so that are complete, where the Centrespread is missing because someone extracted it for the Cut-out, and there are people who sell just these on eBay, so when I have that unbelievable collection, I will make a list of incompletes and maybe I can mix-and-match.
And then a long, leisurely sitting back and reading, without having to leave the flat on Saturday afternoons. Then we'll see some real Nostalgia.