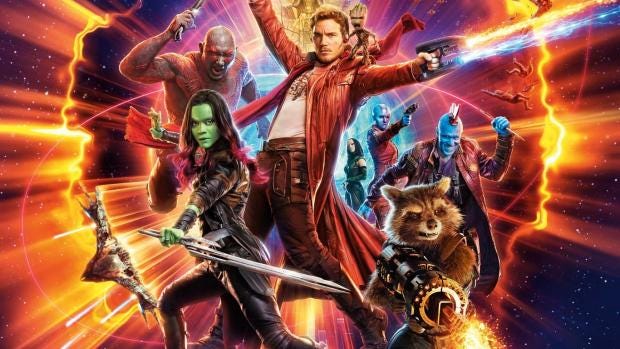 You know what to expect when you go to see a Marvel Cinematic Universe Movie: just leave your brain behind and settle back to enjoy furious, breathless pace, a barrage of high-quality CGI and, if it's the Guardians of the Galaxy, a barrel of laughs. So I had a great time this afternoon, hiding from the stifling heat in a cinema in which there were about a dozen people and I, in row D, the most advanced.
Actually, the best bit of the film was the opening scene, by which I don't intend to slate any of the rest of it, but it had me laughing my head off. We open on a planet known as The Sovereign, populated by gold-skinned, gold-haired, very religious and self-satisfied douchebags, led by Ayesha the High Priestess (played by Elizabeth Debicki, of whom I was not previously aware, who made a serious impression on my, er, sensibilities).
The Guardians have been hired to prevent an incredibly large space squid from stealing certain valuable McGuffins, I'm sorry, batteries. Everyone's getting prepared, including Rocket Raccoon, who's hooking up the sound system for some more Seventies tunes, when Drax the Destroyer protests. For once, Peter Quill, Star-Lord, agrees, at which point the monster arrives and the battle commences.
But we don't get to see it. Instead, the camera focuses on Baby Groot, the living tree whose sole line of dialogue is the Librarian-like, "I am Groot". Little Groot fiddles with the plugs, connects them at the third attempt and, with the battle raging above, around but mostly behind him, proceeds to dance, adorably, laughably, obliviously, to The Electric Light Orchestra's 'Mister Blue Sky'.
Now ELO are far from my favourite Seventies band, and indeed 'Mister Blue Sky' is the very song that saw Jeff Lynne and I part musical company irrevocably, but here is little Groot lost in the music whilst bits of the fight fly, crash and blast past him, and all he does is dance on, and the camera never pans out and it's all so ridiculously silly that you can't help but be in a good mood for the rest of the film, none of which quite comes up to that but hey, you can't be sublime all the time.
It's a high speed, slambang affair, hopping like mad, during which Quill discovers that his missing father is actually Kurt Russell, no actually Ego, the Living Planet, an immortal Celestial. Quill's immortal too, as long as he doesn't quibble with Daddy's plan to expanding himself so that he isn't just this planet anymore but the whole goddam universe. Which, naturally, he does. Quibble, I mean.
It's save the Galaxy time, folks! After they've done it twice, Rocket reckons they can put their price up.
As for the rest, there's plenty of colourful character, patented quipping, genuinely funny interactions and lines, the wringing dry of every piece of fun possible, and all of both highly professional and highly effective. If you go in expecting to be entertained , along with being run through the odd emotional gamut every now and then, you'll be fine. Expect great significance or moral ambiguity, and you're better off going to see the film next door.
There's more room for Karen Gillan this time, as Nebula, though she's still blue and bald, though after a sisterly chat with Gamora, the Galaxy's Greatest Assassin, not quite to psychopathic. And Pom Klementieff puts in a fine turn as the naive empath, Mantis, though the latter's creator, Steve Engelhart, is righteously distraught that, except visually, this Mantis has no resemblance to his character.
And I've already mentioned Elizabeth Debicki, haven't I? Seriously, she's Eddie Cochran levels of Somethin' Else.
I'm glad to see she's going to be back for Vol. 3, in respect of which she appears to be growing a monster and a killer she plans to call Adam. Oh-ho! say all the fans simultaneously: Warlock, we presume.
I'm not going to go into this film in any greater depth because it doesn't require it. It's been criticised for not being as 'fresh' as the first one, and sure it's a whole heap of 'more of the same only different', but I watched the first one three years ago and I can happily sit down to something like that every three years or so.
And having seen the trailer for it, I am so going to go see Valerian and the City of a Thousand Planets, and not just because it's got Cara Delivigne in it. Super space opera on a budget fit to match the original French comics, which were Star Wars long before Star Wars. I think that's going to be fun, like this.