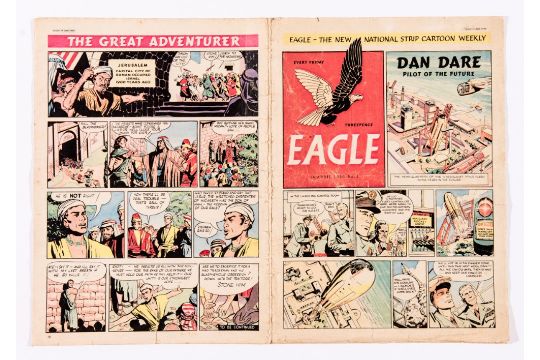 Whichever point you choose to start from, it's taken me a long time to come up with a complete collection of the Eagle (missing centrespreads and clipped coupons notwithstanding). Then again, it's only in the last couple of years, and the belated realisation that I could acquire back issues through eBay for relatively cheap prices, that I've seriously entertained the thought that it was possible.
And now I've achieved that (missing centrespreads and clipped coupons notwithstanding). It's not a complete collection, mind you. It stops at Vol 17, issue 1, the last original Dan Dare episode, after which Eagle went into reprints of classic Frank Hampson adventures from the mid-Fifties. I don't count it from that point onwards: Dan Dare was not just the best thing about Eagle, as it always had been, but by then the only thing worth reading.
So, what's the first thing you do when you complete a full collection? You read it, from start to finish. And what else do you do, if you are a blogger? Very good, but what are you going to do with the other two guesses?
Reading 52 issues of the Eagle takes a certain amount of physical time, as does commenting upon it, so I'm going to take it a volume at a time. I have already read Volume 1, and thus we will begin, as Mary Poppins so sensibly suggested, at the beginning.
Eagle no 1 was published by Hulton Press on 14 April 1950, a Friday. Its original publication date was a fortnight later but rumours had reached Hultons that a rival full colour comic was being planned as a spoiler, and publication was advanced, to ensure being first.
Just under a million copies were printed by Eric Bemrose & Co in Liverpool, using experimental printing equipment imported from Germany, which was still being constructed when the first sheets of paper were fed in. The comic consisted of twenty pages, five loose-leaf sheets, the cover and centrespread printed in colour, the internal pages in black and white.
Two of Eagle's classic features were present from the start, three if you count the back page Lives of Famous Men series, starting with St Paul: the subject editor the Reverend Marcus Morris had insisted upon over Hulton's reservations. The other two were Dan Dare, written and drawn in its first ten weeks by Frank Hampson alone, and on p3, PC 49, adapted by Alan Stranks from his already popular BBC Radio comedy-drama.
Another regular, but not so long-lasting feature, initially drawn by Hampson's studio and signed by him, was the full colour Tommy Walls strip, the first and most prominent of Eagle's many adverts in comic form, this promoting Wall's Ice Cream.
For the first half dozen weeks, Eagle alternated between 20pp for odd numbered issues and 16pp for even numbered. Almost every week, Morris's editorial comments upon the lack of availability to readers, which is down to the ongoing printing issues (after the near 1,000,000 copies of issue 1, only 300,000 copies of no 2 were possible). Eventually, it was announced that Eagle would be 16pp every week, to try and increase printing time and make more copies available.
The initial 3d cover price lasted until issue 18 when it was lifted to 4d, an increase of 33%! This was justified in the editorial as helping to get more copies printed and available to the readers. I have no figures for this particular time, but Eagle was known to have settled down to a steady 750,000 sales per week throughout the Fifties and there's no reason to believe this wasn't achieved during the first year.
Dan Dare's first story, which carried no official name, ran throughout the first year and beyond. After Hampson's initial solo run, his studio system was brought in, as was a writer, though he lasted only six weeks before confessing that, as he had had a classical education, of course he had no idea what to do. Hampson, who had negotiated no separate contract for scripting, was forced to struggle on, taking on writers to work under his direction, paying them out of his own pocket, and generally moving things along.
Dan Dare was the best thing in Eagle, but this was very much the strip's primitive stage. Hampson was learning as he went along, and his assistants were all straight out of art school, except for Bruce Cornwell. The art was lively and colourful, though the colour palate was very subdued in comparison with the heights it would reach, and it looked muddied and dull throughout. There was still a large cartooning component to faces and, to a lesser extent, figures, but the danger in such criticism is that I am judging Eagle not by the standards of its contemporaries in 1950, but rather its own glories of 1955 and onwards, against which it is helpless.
Generally, it's fair to say that Volume 1 is a learning curve, in all respects, and that there was much to learn, yet even the worst of the comic in this first year is an astonishing leap forward from its contemporaries.
PC49 suffered in its first year from very weak art by Strom Gould: awkward, bland, undetailed. Stranks was feeding off the continuity he'd established for the radio series, so Archie's fiancee (and later wife) Joan Carr was always there in the background. Stranks got through two full stories in a year and was well-established in a third. The first was a nondescript affair of 49 pursuing crooks who knock down a crippled orphan with their car (thereby curing his bad leg!), the second involved secret societies, the Secret Service and lots of manic running around and the third saw a film star's son being kidnapped by a circus gang that included a midget who appeared to be about two feet tall and perfectly proportioned. Nor was there anything of the trademark humour Stranks brought to the radio show, and would employ in the strip's future incarnation.
The next band of strips etc. were part of the centrespread. Seth and Shorty – Cowboys was obviously a western, and was as nondescript as the name suggests. It ran sixteen weeks, without credits. The title characters were bland cowhands, there was a bit of rustling and they ended up with enough money to buy their own ranch. The dialogue was written phonetically, to some effect, whilst the art, which looked unformed and indistinct, does have the merit of a certain impressionism to its colouring scheme. It was a very minor series, but thanks to its art, retained some minimal charm.
Seth and Shorty lasted seventeen weeks and were replaced by a strip relating the Life of Cortez, Conqueror of Mexico. The art was ugly and ungainly, the story jerky, the colours muddy and the strip unforgivably paternalist towards the conquered subject people, the only pleasure coming from the abrupt ending in which Cortez lost all his looted money and died a pauper. This was written by Ronald Syme and drawn by William Stobbs.

However, this gave way to the third of Eagle's classic series, Charles Chilton's Riders of the Range. Like PC49, this was a successful radio series, adapted by its creator, and I assume with similar initial fidelity. Hero Jeff Arnold appeared to be a full-time Texas Ranger, sent out to deal with a rustling issue which took him towards the 6T6 Ranch of J C MacDonnell, his daughter Mary and Luke, the Old-Timer. Arnold, the fastest gun in Texas, appeared to know the 6T6 bunch, but at this stage, he wasn't employed there, as became the norm in future stories, nor is Luke the full-time sidekick he was obviously designed to be.
Art at this stage was by Jack Daniel, heavy on atmosphere and deliberately stylised, lurid in colour. Frankly, I don't like it, though I'm heavily influenced here by what the strip later became, under Frank Humphris, who doesn't have the same fame as Eagle's two big Franks, Hampson and Bellamy, but who was as good an artist as either of them, in an understated, photorealistic manner. I still find it impossible to reconcile Daniel's awkward, elusive approach with the interest and enthusiasm of the comic's intended audience: it's a radical style geared to adult appreciation.
Riders of the Range started in issue 37 and still managed to get into a second story by volume end.
The format of the centrespread was fixed from issue 1. This was the home of the famous Cutaway Drawings, primarily from L. (Leslie) Ashwell Wood. Nearly two dozen artists would contribute to this concise and immaculately factual series, but Ashwell Wood would draw over ten times as many cutaways as the next most prolific contributor. Wood's detailed and meticulous full colour drawings extended across the centrespread, occupying just over half the image area, and was supported underneath by a slightly smaller strip.
Through Volume 1 this was the unprepossessing and utterly forgotten Skippy the Kangaroo, a cartoon adventure series from, probably, France or Belgium, produced by Danet, Dubrisay, Genestre, about whom I can find nothing whatsoever on-line, except in relation to this. It's drawn in a pre-ligne clare big-eyed style, with rounded characters and featured famed Big Game explorer Sir Marlborough Mouseworthy being commissioned to go out and bring back a tiger. Our hero wound up in a jungle on the edge of a desert and had to be rescued from the tiger by a tribe of talking kangaroos, one of whom, Skippy, is the titular hero, a multi-talented, mischievous and pretty damned reckless marsupial, who captures the tiger, then accompanies Sir Marlborough back to civilization, by which time the poor, put-upon baronet wants nothing more than to get rid of him, and frankly, so do we. Repeat after me, this is one for the seven year old audience, this is one for the seven year old audience and no-one else.
The fourth page of the spread was split between one historical and one nature series, the latter of a kind Eagle would produce time and again: experts in their field condensing information into a few panels, educating the readers with beautiful work, though once again, the heyday of these features was yet to come.
Morris's Editorial and Eagle Club page followed, as did one of the comic's least-remarked upon features. A three panel silent cartoon strip filled with remarkable pantomime notions, starring a small boy named Chicko. It's very dated by modern standards, but this too was a landmark, being the first regular work of Norman Thelwell, going by his surname only. He would go on to become of of England's most loved cartoonists, for his long series of cartoons featuring little girls and stubby ponies. Chicko was done whilst he had a full-time job teaching illustration and design at Wolverhampton College.

The Hampson studio's weakest work was in the black and white strip in the back half of the comic, about Air Cadet Rob Conway. Hampson signs the art in the first three weeks, then his friend and assistant Harold Johns does the next three weeks, after which all credits disappear (presumably out of embarrassment) and some really ropey art that has never been within a hundred miles of Southport appears. The strip is a nothing: Conway comes to the help of a one-armed man being attacked in an alleyway, discovers he has a treasure map to a lost city in Tibet and joins an expedition to find it. It limped increasingly through fifteen weeks before being written off, and replaced by John Ryan's Harris Tweed, Extra Special Agent.
Ryan was represented from issue 1 by his more famous Captain Pugwash, a half-page strip about the meek and ineffectual pirate, his enemy Cut-throat Jake (who is blown to pieces in the last instalment) and his domineering and considerably more efficient wife. The latter didn't survive into the popular BBC cartoon, by which time Ryan's art had developed into the soft-edged, rounded style we recognise today. Both Pugwash and Tweed, which overlapped by two weeks, were drawn in an unattractive and very angular style, that shows little command of figures and movement, but Ryan would improve rapidly after the first volume.
At this stage, Tweed's misadventures were given a full page, in which the bumbling, self-important blowhard would usually come out on top either by sheer, implausible chance, or else unacknowledged assistance from the Boy, a youngster in Tweed's charge who was usually treated with callous disregard by the master detective: Social Services would have had a fit!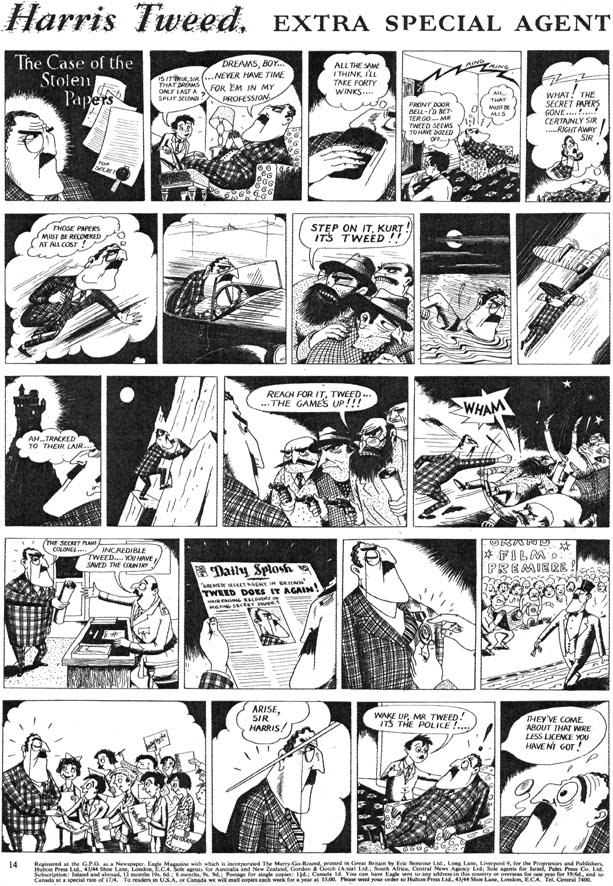 I've already mentioned Tommy Walls, which was initiated by the Hampson studio, and Hampson himself, at the specific request of Walls, but soon shuffled off to Richard E Jennings, as artist. Each week, the strip featured Tommy and his little gang coming across all manner of crimes and disasters and saving the day, thanks to the additional energy and intelligence they get through stuffing themselves with Walls Ice Cream all the time.
At first, Hampson portrayed Tommy as a Popeye-like character, deriving superhuman powers from his Walls Ice Cream, but this was soon toned down and Tommy became merely a Boy Wonder. He was aged somewhere around 12/13, the leader of a small gang of similarly aged boys, but his range of abilities, agilities, strengths, speed, intelligence are phenomenal. And his ability to knock out grown men with a single punch has to be seen to be believed…
That leaves The Great Adventurer, whose adventures lasted throughout the first volume and beyond. This was the fifth page of art, four of them in colour, required by the Hampson studio, and given that Frank Hampson's maxim as Art Director was that no artist should be required to draw more than one page of full colour art per week, it becomes easier to see why the master's complex, unwieldy and overworked team were called into existence. At various times, several studio members, and non-studio artist Norman Williams worked on the story.
Eagle's mainly known as a strips and cartoon paper, but from the outset, it had its fair share of prose. Issue 1 featured two serials, 'Plot against the world' by the Reverend Chad Varah in the first half, and Moore Raymond's 'Lash Lonergan's Quest' in the back half. The first was an excitable, fast-moving and fairly wild story about a secret organisation, known to itself as 'The Peacemakers' but to governments around the world as 'The Conspirators'. Jim, a teenager of indeterminate age, gets drags into the action by trying to save a man in a coal cellar, who is an atomic scientist working with the Peacemakers to establish world peace. Jim's cousin Ray, believed dead two tears before, is the main hero, but the cast expands wildly to include a phlegmatic Lancastrian garage owner, an excitable Doctor, a robust vicar, Jim's pal Ken and his younger sister Pru, a somewhat tomboyish character who whacks Jim with a cricket bat in episode 1 and gets kissed by him, whilst asleep, a couple of episodes later (racy!)
It's madcap, unstructured, and increasingly unrealistic the longer it goes on, but it's oddly fun. The kids of 1950 must have loved it!
'Lash Lonergan's Quest' was set in Australia and is gloriously as Australian as it can get, in slang, actions, names and everything. The hero is Australia's champion stockbroker, who heads home to Coolabah Creek (I told you!) and his Uncle Phil's ranch. But Uncle Phil is dead, clutching a chunk of opal, and his foreman, Dago Messiter, has taken over the ranch, claiming Lash was disinherited, so Lash and his friends, the stockman, Rawhide O'Reilly, and the kid, Squib, plus the faithful aborigine, Mopoke, must fight to recover Lash's rights.
Again, it's goofy and unselfconsciously Australian in every way, and the slang is refreshingly inventive and probably all a terrible cliche, but it's energetic fun and the serial format keeps it from ever getting tedious.
The fourteen weeks of 'Lash Lonergan's Quest' was the only time Eagle ran two serials simultaneously. Chad Varah's tale was succeeded by another thriller, by Ronald Syme, 'The Secret of the Mine', about two young English lads assisting a delightfully drawn Arab Detective-Sergeant to prevent the bombing of the Straits of Gibraltar and the creation of a new country in the Mediterranean basin, and this was followed by 'Thunder Reef', about three English children (the oldest of them a fifteen year old girl) on holiday in Brittany, and running into smugglers.
But the second serial slot went over to complete short stories instead, entertaining enough but none particularly memorable, until, in the last quarter of the volume, we were introduced to MacDonald Hastings, Eagle Special Investigator.
Hastings, a war veteran, was a Fleet Street Correspondent who took on exciting and sometimes dangerous tasks to report upon to Eagle's readers. He was open about the risks he faced and his own nerves and failings (which sound to my ear as if he was gently exaggerating), but he took the kids into adventures they could only dream of having themselves.
So that's Volume 1. Even without anything to directly compare, it's clearly head and shoulders above anything around it. But it's still disappointing in its overall quality, if measured against its own standards. Dan Dare is the most successful feature, and that is still in a primitive phase.
But remember that this was the work of amateurs. Gifted amateurs, amateurs not bound to any preconceptions as to what did or didn't, or could or couldn't work. They didn't know what was possible, they were learning on the job, they were upgrading all the time. PC49 and Riders of the Range would massively improve with new artists, and the egregious error of Skippy would be gloriously corrected by the similarly-European feature that succeeded it.
It's good, but it's going to get much better.