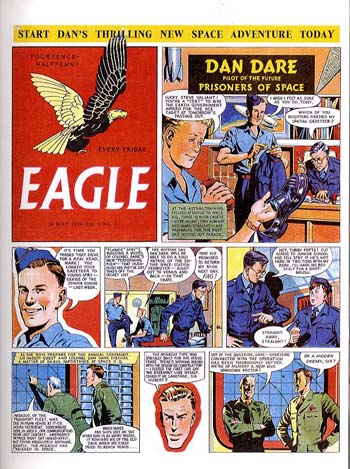 From the shortest Volume of Eagle to the longest, as the vagaries of the calendar gave Volume 5 53 Fridays on which to publish. From this point onwards, each Volume represents a calendar year.
We're very close now to Eagle's classic form, with only one feature still to make it's debut. Well in advance of that, a stalwart of the first four years took it's bow: only two short serials, both drawn by Hampson assistant Harold Johns, not long before his unjust sacking, before Tommy Walls came to an end in issue 13: four years, almost to the week, of fanatical ice cream consumption. Did the average health of 11 – 14 year olds suddenly soar?
Otherwise, there was little change in the strips and series, the main ones being MacDonald Hastings' return as Eagle Special Investigator and the debut of the best of its half-page true-life/nature series.
ESI's second run lasted just over a year but, as the readers themselves noted, did not involve the same degree of potentially dangerous activity as before, and much less need for Hastings' brand of self-deprecation. Every so often, his page was supplanted by Readers Letters about his adventures, the best of which earned an ESI Pen-knife.
His break was taken up mainly by real-life adventure stories, but in November he was back, this time with a serial adventure featuring Mac and his regular photographer, Chris Ware, on an extended African safari to find the Bushmen of the Kalahari Desert, which carried over into the following year.
The other feature was to be a long-running half-page by popular TV naturalist of the era, George Cansdale, with splendid detailed and coloured art by Backhouse. Too many of Eagle's half-pagers, though factually accurate, suffered from sketchy and imprecise art, but Backhouse's style, and his vivid colouring, set a standard the comic never equalled in any other of its factual features, and the series ran for years.
Dan Dare saw 'Operation Saturn' through to its end, and a substantial portion of 'Prisoners of Space'. By this time, there's no overt suggestion that Frank Hampson is doing any part of the drawing, and its usually accepted that the latter part of 'Saturn' was pencilled by Don Harley and, because the studio was greatly reduced of assistants, and Hampson's second physical breakdown meant that prolonged rest was essential, the work was sent out of the studio to be finished by Desmond Walduck, the preferred freelancer for situations like this.
But, especially in 'Saturn', there was still a clear difference in art between the cover and page 2, with the latter less-detailed and more bland, except in close-ups of Vora, last of the High Ones. When 'Prisoners of Space' takes over, however, Walduck's style more or less swamps that of Harley, and there is little of interest in that. Colouring on both stories is flat and dull, making the style particularly two-dimensional.
This is not a good volume for the qualities of Dan Dare.
PC49 was fully settled into a familiar groove, in which each case would be inspired, in one fashion or another, by a new Boys Club member. 'The Case of the Bad Egg' introduced potential wild kid Dusty Dawson, fending for himself whilst his mother was ill in hospital, and trying to help his Uncle Knocker, of Knocker and Slim and 'The Case of the Terrible Twins' in Volume 2. But Dusty believes what his Uncle has told him about being framed, and as soon as he discovers Knocker is a crook, and one who intends forcing him into the business, he does his best to break away and help 49 and the Boys Club bring in the crooks.
But Dusty doesn't reappear, despite being made a member at the end, and being invited to bunk in at Mrs Mulligan's until his Mother is out of the hospital (the Mulligan Twins, well aware of their own brush with wildness, have turned into the most generous with waifs and strays needing somewhere to stay).
In contrast, Tam Piper, who is so much a Scot he goes around in a tartan kilt (and tartan pyjamas) doesn't generate the case, but being a mechanically inclined young lad, is central to the Boys Club being able to present an old crock of a car to their President, to relieve his sore feet, and have it run. But the car conceals a map of the stash from a jewellery heist ten years ago, coincidentally in the same Cornish cove 49 and the boys are going to on holiday and the theif has just got out of prison… But Tam stays on and features in other stories, with his heavy Scots accent.
Partway through the volume, the increasingly simple adventures of Harris Tweed are moved out of the back half of the comic and onto page 5, opposite ESI, whilst David Langdon's 'Professor Puff' continues on its mildly fantastic way, with the Prof and his dog Wuff having adventures initially in the Arctic and then in Outer Space.
It's still not all that enthralling and, with Swift coming along to complete Hulton's little group of Redtop comics, aimed at the gap between the kiddies of Robin and the more mature readers of Eagle/Girl, it may have been a bit more appropriate to shunt Puff and Wuff sideways a bit.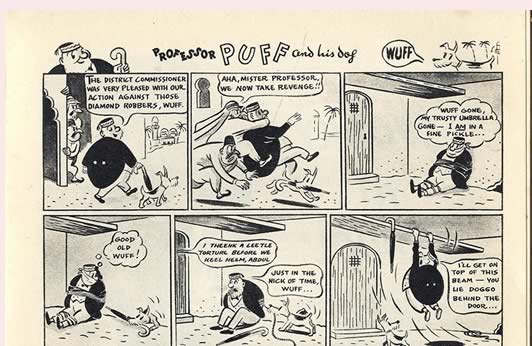 When we left Luck of the Legion, the Sergeant and Corporal Trenet were taking on a new mission in 'The Secret City'. Bimberg turned up working (inefficiently) as a cook, but when the new Commandant refuses to believe in the mission, Luck and Trenet fake an attack to cover breaking away in defiance of his orders, and take Bimberg with them, as he actually is a good sharpshooter. It marks the beginning of the true partnership, and the continual balance between Bimberg's childishness, love of toffees and ability to form relationships with every kind of animal, and the senior Legionnaires' constantly inventive insults about his weight and general competence.
The Three J's was also as well-established as PC49 and adopting a similar formula in introducing a new boy at Northbrook School in each story, who in one form or another turns out to be at the heart of the adventure, being a French boy facing kidnap attempts, Martin 'Goosey' Gander, who is confined to a wheelchair, or the mysterious 'Somebody' who is running a secret protection ring.
Ling by now was cleverly attuning his stories to the rhythm of the school year, alternating 10-12 week serials corresponding with terms, and 4-6 week serials set in school holidays. On the other hand, every time the J's started a new School Year, they were always back in the Fourth Form, which, with two supposedly clever boys among the Three, suggests that everybody was bloody awful at exams and kept having to be kept back en masse!
Storm Nelson demonstrated its international spread, concluding the first adventure in rescuing not merely Lloyds Agent Don Kenyon – who would become a regular source of commissions for the Silver Fleet – but Captain Kidd, aka Kerfuffle's Dad, who promptly leaves his spunky Aussie son in Storm's care to run permanent risk of death and danger!
The Silver Fleet next turned up in the Mediterranean, running a fake archaeologist and an exiled bandit to a Greek Island wracked by earthquake in search of the Golden Apples of the Hesperides, before sailing out to the Pacific to intercede between feuding South American republics. Jennings' art was clear and bold, robust and dynamic, and his depiction of Honeybun and Xerxes were lovely models of eccentric looking people who nevertheless remained completely believable.
On the back page, 'Alfred the Great's life story continued until issue 16, after which it was succeeded by that of Scout Movement founder, Robert Baden-Powell. Marcus Morris was at pains to point out the personal significance of this to artist Norman Williams who, as a Scout aged 12, had been commended for his artistic skills by B-P himself!
To be honest, I found the hagiographical portrait of B-P, especially in his school and early Army career, to be off-putting of the man, making him appear to be arrogant rather than confident, but then I am not and never have been a Boy Scout or any similar creature, so I'm not necessarily the best to judge. Or maybe I am? The series was collected as an Eagle book in 1957, incidentally.
To conclude: I've already mentioned that Frank Hampson is popularly regarded as having been absent from Dan Dare throughout this period, and his name does not appear on any page of art in the series. Indeed, 'Operation Saturn' strays widely from the original synopsis Hampson develops, completely dropping the attack on eugenics he'd conceived as fundamental, and despite his using his son Peter as the model for 'Flamer' Spry (at least from the neck up!), I can't see him having any input into 'Prisoners of Space'.
And there was still a substantial chunk of that story to go in Volume 6, but Frank Hampson did contribute one page of splendid art, beautifully coloured and detailed, on the penultimate page of the Christmas issue. Entitled 'The Editor's Christmas Nightmare' it is a fantastic mash-up as (nearly) all Eagle's characters turn up in a single spot, wearing each other's gear – Dan and Digby swapping outfits with Jeff Arnold and Luke, Sergeant Luck and PC49 arresting each other for impersonating the other, and Harris Tweed improbably popping up in the Mekon's pink jumpsuit and on his flying boat, to lead everyone to the true culprit, Marcus Morris sleeping on the job after too much wine at Christmas lunch!
It's brilliantly drawn, in the mature style Hampson would unveil when he made his full-time return to Dan Dare, but there's also a bit of barely suppressed nastiness to it, with Morris being ridiculed openly (the bit about the wine was definitely true to life), and the panel where he pleads for mercy from the characters had to be altered to eliminate the noose Hampson had put around his neck…
But as a harbinger of what to come, it's mouth-watering, and Volume 6 would see that standard of art burst onto the scene, along with the final piece of the classic Eagle puzzle.