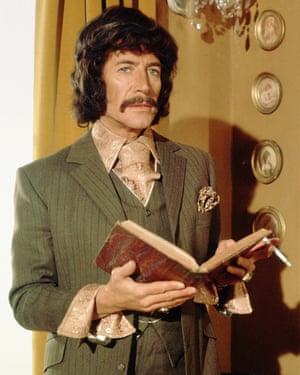 I remember Peter Wyngarde. Only in later life, much later life, did I see him in the 'Hellfire club' episode of The Avengers, with Diana Rigg in her fetish outfit (I would definitely have been regarded as too young for that episode), and though I would have seen him in his role as Number 2, in the 'Checkmate' episode of The Prisoner, I only remember him in that austere role from later watchings of the series.
No, like the rest of us who were around for any part of the late Sixties, early Seventies, Peter Wyngarde is only and ever could be Jason King.
I only ever watched him in the role in Department S, in which he co-starred with smooth-suited, sleek-haired Joel Fabiani and bubbly-permed Rosemary Nicholls. Wyngarde was one of three equal stars, attached to a specialist Interpol department.
Department S debuted on a Saturday night in 1969. There was a single series of 28 episodes, filmed as cheaply as possible (to save costs, the series was shot back to back with its contemporary, Randall and Hopkirk (Deceased)). It was a typical, shoestring ATV production, aimed at the American market (hence the American lead).
Fabiani was ex-FBI agent Stewart Sullevan, a pragmatic agent whose background was never filled in, the vivacious Nicholls played Annabelle Hurst, a computer expert and analyst. He was the straight man, she did the glamour (in episode 1, trapped in a suspect's apartment, she escaped by stripping down to bra and knickers, donning a long blonde wig and sashaying out: I faithfully watched every other episode without her ever doing anything like that again).
Wyngarde was the break-out star, though, the one the public loved. He was an adventure novelist by trade, the ideas man, the comic relief. Wyngarde played him in hip three piece suits, with a Zapata moustache and a flamboyant manner that sent himself up.
The series was dirt cheap. None of the cast ever left the studio. Outdoor scenes were filmed with extras, body-doubles and anonymous locations. But it was fun, in the way so many of that type of series was in the middle to late-Sixties, and the combination of the straight performances of Fabiani and Nicholls with the high camp of Wyngarde made it stand out.
The show wasn't renewed. Instead, Wyngarde was asked to star in a spin-off as Jason King. This ran for a single, 26 episode series, concentrating on trying to write his fictional self-image agent, Mark Caine. I didn't watch this, though I've occasionally caught scenes on afternoon TV: King worked as relief in the trio but for me was far too over the top as a solo star.
In later life, commenting about The Prisoner, Wyngarde claimed that Patrick McGoohan had originally wanted him to play Number 2 every week, but that he couldn't fit that into his schedule. I've never seen any comment from McGoohan about this claim, but it couldn't have worked, and that's not criticising Wyngarde: a 'ecurring Number 2, same opponent week in week out would have been a disaster.
As times and tastes changed, Wyngarde's theatrical style got further and further out of fashion. But at that time and for that time, he was the toast of the town, the King of his own particular hill, and we who watched the ATV thrillers of that time took great delight in them, and in Jason King, Wyngarde achieved his own little slice of immortality.