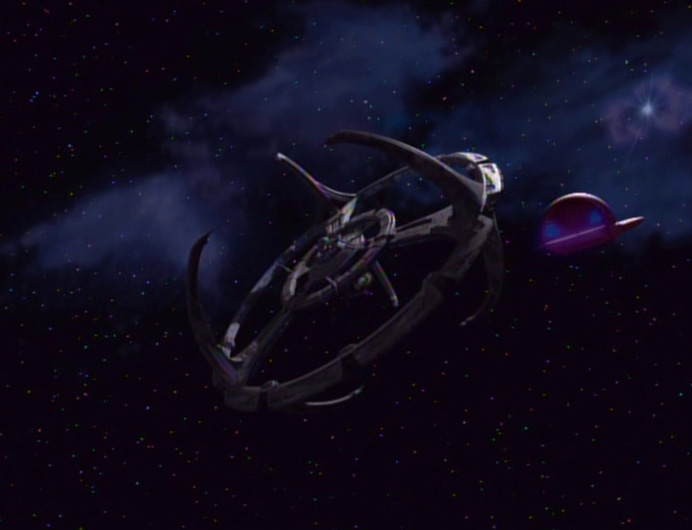 Though I don't remember anything at all of these few episodes I originally watched almost twenty years ago, this episode epitomises why I was so enthusiastic about Deep Space Nine when I had been basically ambivalent about what came before it. It's an excellent drama, taut, tense, character-driven, and containing that indefinable sense of danger, as it at any moment it's going to take a step that it can't go back from. And though it's ending does, as usual, reassert the status quo, it's done in a manner that satisfies, and which arises directly from the nature of the protagonists.
In that respect, the episode was subliminally aided by its immediate predecessor, in which recurring character Michael Eddington was killed off, informing us that other recurring characters might not be entirely sacrosanct.
'Empok Nor' was essentially a Chief O'Brien solo, especially as no other member of the cast appeared outside the open or the close. Part of DS9 is breaking down and can neither be repaired nor replaced except by salvaging the equivalent equipment from its abandoned sister station, Empok Nor. O'Brien leads a team of two engineers, two security officers and Nog, fast becoming a very useful cadet. However, as Cardassian practice is to booby-trap abandoned stations, O'Brien also takes Garak, as a specialist booby-trap defuser.
There's an interesting bit of foreshadowing needle on the way. Garak keeps prodding O'Brien over his war record, the hero of Settlik III, despite the ample evidence that O'Brien takes no pride in what he did, that he regards it as an act of war, necessary but not to be celebrated, and that it is part of his past: he is an Engineer, not a soldier. Garak at this point is just trying to get under O'Brien's skin, and O'Brien is not letting him, truly.
Things change once the party arrives at Empok Nor. Garak defuses the booby-traps, allowing everyone to get on with the salvage, but there's an unexpected line of defence: two fanatical Cardassian soldiers, released from stasis. They detach and blow up the runabout, leaving the Federation party stranded, and begin stalking them.
What's worse is that they are under the influence of a psychotropic drug enhancing their xenophobia. Before we learn this, we see Garak accidentally put his hand on some seemingly innocuous blue slime that appears too merely be evidence of Empok Nor's decaying state (the station, a duplicate of DS9, or Terek Nor as it was, hangs symbolically at an angle in space).
The Cardassian soldiers kill two of the crew. Garak goes off to hunt them, killing each in turn. He's getting increasingly into it, in fact he's contaminated by the drug, as is evidenced when he kills the last remaining security officer himself. And it takes all his restraint to keep himself from killing Nog, who he needs to lure O'Brien into a trap.
Because that's what Garak wants. An opponent he regards as worthy of him, an opponent he wants to see as as much a killer as himself, and to break O'Brien down to his level. In order to protect the last remaining crew member under his charge, O'Brien has to enter into personal combat with Garak, combat he's going to lose.
But, and I'm not criticizing the episode for this because it was the only possible and character-faithful outcome, O'Brien beats Garak by being what he is: an Engineer. An impromptu trap, an impromptu bomb. It was the perfect response to the set-up, and the perfect ending to an episode that, rather than be an old-style 'Let's all dump on Miles', instead showed the Chief in all his settled qualities.
Garak survives, the drug neutralised, a couple of ribs broken, severely chastened. O'Brien will testify, at the autopsy, that Garak was not in control of himself. The final line, delivered with a lack of emotional energy that was ideally suited to the downbeat close, had Garak musing that had he been any closer to the explosion, it would have killed him, and O'Brien's almost shy rejoinder that that was actually the intention.
A sober note on which to close another very strong episode. Only two more left in a very good series, and them I'm back in unknown territory again.  Seasons 6 and 7 are already ready, locked and loaded. Another year of this…