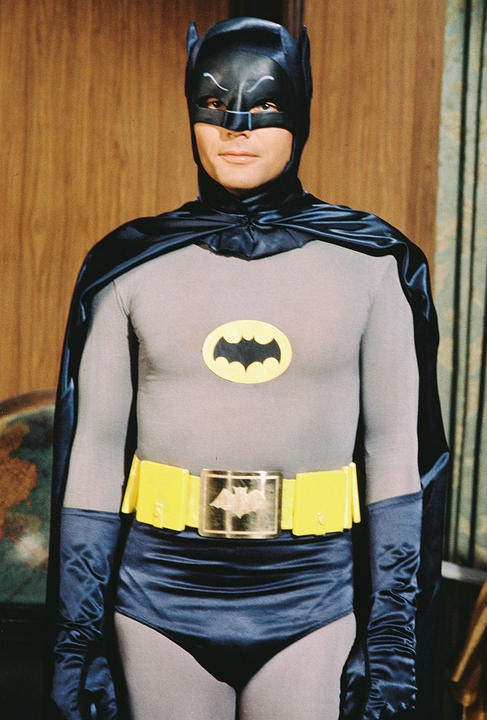 In that long lost country that was 1966, a ten year old boy eagerly encouraged his Mum and Dad to stay at his Granny's long enough for him to watch the first episode of the Batman TV show. I was ten years old and I was thrilled by American comics despite my parents' distaste for them, and on Saturday nights I got my way and I hung on every brightly coloured black-and-white image.
I remember things: the 'Hot-Line', "To the Batpoles, Dick!", and that moment near the end when Batman did the 'Batusi', which went over my head in so many different directions. My Dad's vocal shock that Nelson Riddle, who'd worked with Frank Sinatra, was involved as musical arranger on something like this. And then it was "Tune-in next week. Same Bat-time, same Bat-channel!"
That next week wasn't next Saturday though, it was Sunday night, and I couldn't wait.
These are the things I remember,  and I find it telling that after fifty years, that's what I remember. Wasn't the villain The Penguin? I can only be 50% sure.
Because, let's face it, the Batman TV Show of the Sixties was shite, and it was written and acted to be shite, because the people who were responsible for it thought that the original material was shite and that the audience that in any way took this shite seriously was laughable and deserving only of these superior souls' contempt, which came out in every frame of the show.
Absolutely none of which was detectable by a ten year old boy who was thrilled just to see Batman on TV, Batman, and who was even more thrilled one Saturday morning to go off to the Burnage Odeon to see the Batman film, and see everything in colour (though he was very confused to see Lee Meriweather playing Catwoman, instead of Julie Newmar: mind you, looking back, and even allowing for the fact I was then eleven, I am startled that I noticed).
Understandably, I was the only one in our family enthused to watch Batman. Saturday was one thing: I was far more indulged at Granny's, and anyway the adults were more into talking than watching the box, but twenty-four hours later, at our home, my Dad said what we watched and more often that not the ITV Sunday night film, which started at the same time, was his choice. I was forever doomed to watch Batman and Robin get into a dastardly trap and never find out how they got out of the cliffhanger.
Years later, however many I can't recall, I went to the cinema to see a revival of the film. The scales fell from my eyes in such profusion that I could barely see the scree over them. I thought the "Some days you just can't get rid of a bomb" bit was the nadir, but when we got to Robin's puzzled, "You mean they won't be coming back, Batman?" I admit I groaned aloud in pain and wanted to cover my head.
Granada only ever showed the first series. Later, I heard that Batgirl had been introduced into the third series, which surprised me because I'd just assumed they hadn't been making any more. I was curious, but I accepted that, except in the unlikely event of going to America – and the idea of leaving England was just so outlandish, I never imagined it – I'd never see it.
Once again, let us leap in time. It is the mid-Nineties, I am a responsible houseowner, all sorts of things have happened including Channel 4 and Breakfast TV, and the former are showing Batman, stripped five days a week, at 9.30am. And, what do you know, it's that third series, with Yvonne Craig as Batgirl. And one of the other things to have happened in the meantime is owning a colour television. And a video-recorder.
It becomes a thing to record Batman, same bat-time, each bat-weekday morning, and watch it when I came home. By now, it's dropped the cliffhanger bit, the villains get one episode each, and the continuity bit consists of the next villain showing up for the last thirty seconds of the previous episode.
And Miss Craig is a fine figure of a young lady, and I already knew the producers wouldn't actually let her punch anyone out, especially once Batman and Robin are onscreen, so it comes as no surprise that all she does is ballet-pirouette, and give the occasional ladylike kick, which is not only bloody ridiculous and a complete waste, but which contributes heavily to my immediate impression that series three of Batman makes series one look like 'War and Peace'.
This is, of course, an initial impression. By the end of series three, the show is making the beginning of series three look like 'War and Peace', and Eartha Kitt is no adequate successor to either Julie Newmar or Lee Meriweather.
No, the Sixties Batman TV show was not worth the watching, and my Dad's refusal to subject himself to it when he had a choice was both understandable and the thing I would have done in his shoes.
You may think that this is a rather mean-spirited way to mark the passing, aged 88, of Adam West, who was both Millionaire Bruce Wayne and the Caped Crusader, and it may be, but I hold none of this against him, nor do I begrudge the love he had from millions all his life. He did the job asked of him, and there are plenty who could have done a worse job.
And you could say he wasn't as bad as George Clooney, who really should have known better.